Hello Ladies,
Hope you all are enjoying the festivities at its best. May these joyous days last you forever! :)
Now, back to our content for the day – The Body Shop Chocomania Shower Cream. The Chocomania range of The Body Shop has now been re-introduced indefinitely. Yayyyy!! And the Shower Cream, Body Lotion, Body Butter, Body Scrub, Lip Butter, Soap (they are the prettiest delight to ever hold – all heart shaped & flecked * swoons *), and Beautifying Oil are part of the Chocomania family. It is described as a lush decadence of shea & cocoa butter & dark chocolate delights, Can you say no to that?!
I couldn't. So at a recent TBS Sale I picked up this Shower Cream and Body Lotion (review later :) ) at flat 50% off individually (icing on the cake!). So after a consistent use for 4 months now & varying seasons & climate, I am finally ready to divulge all that I have to say.
Price & Qty:
Rs.395 for 250 ml (I purchased this at flat 50% off. The TBS Sales are a good opportunity to grab your favorites at to-die-for prices)
My Take on The Body Shop Chocomania Shower Cream:
This shower cream comes in a sturdy, plastic, transparent bottle. The cap shuts tightly. Therefore, no fear of leaking or spilling out of product. It is see-through. Hence easy to make out the product quantity. This shower cream can be used during travels. But TBS has travel-sized variants, too. You might want to check those out for your travel toiletries need.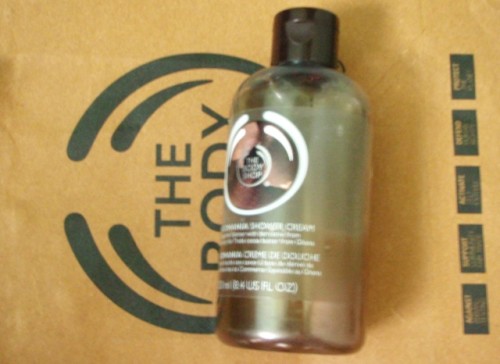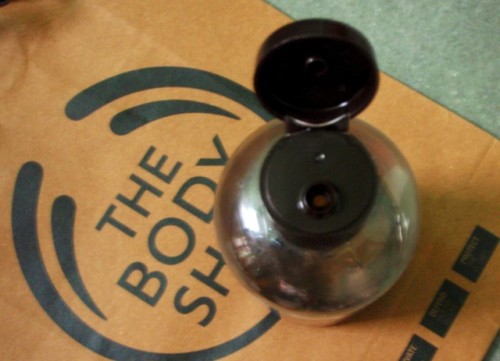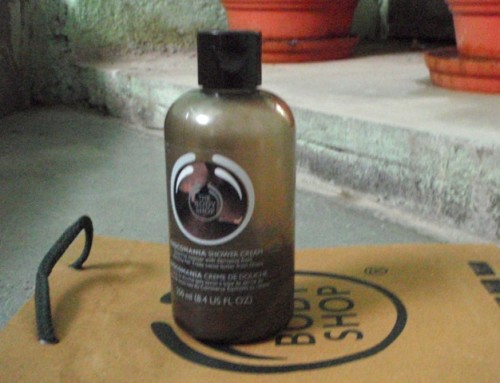 The words shower and cream bring to mind the texture of creams or heavy duty lotions and the like. It is definitely thicker compared to other shower gels and bubble bath products. But not like a cream, no. It is pearlescent to make it look delightful, of course. But it spreads easily, and lathers well. The fragrance is to die for. All of a sudden it's Christmas in your Bath. Warm, luscious cocoa, mocha cookies, and caramel. Not the punch of dark chocolates, but the mellow, more common chocolate that most of us are familiar with. I'm sure the most indiscernible of noses will buckle their knees for it. All in all, a pleasurable experience.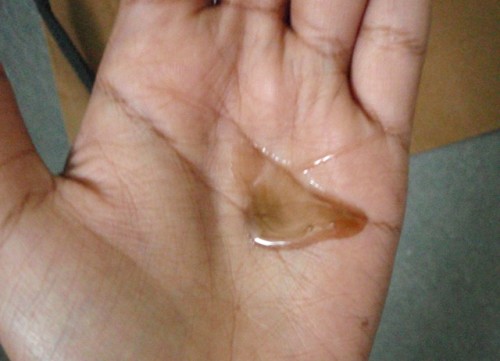 A little goes a long way with this too. Use a loofah or bath gloves for best results. It spreads with a delight. However, it does not leave a squeaky clean feeling once washed off. It leaves behind a film of sorts, the slippery feel. One may not like it, and feel the urge to cleanse repeatedly. It is just to emphasize the moisturising properties of the cocoa & shea butters, and going by the name of shower cream. It moisturizes skin well. I, however, like to top off my bathing rituals with the body lotion from the same range. A body butter may prove to be heavy afterwards. But if you extremely dry skin, then go ahead. It best suits those with very dry/dry/combination skin. Oilier the skin the more greasy it might feel. The drier, the better.
Now, I have tried it well from the departing summers to the welcome monsoons and now to the oncoming winter chill. The skin on my body tends to dry up in the summers due to the heat, become absorbent during monsoons & extremely dry when the first spell of fall/autumn hits (Yes, it has become a joke amongst family & friends. The skin now acts a forecast for seasons. :P I definitely used a very light hand during the monsoons, but feel that it leaves my skin aptly moisturized when my skin behaves extremely dry & rough. Overall, the cream in it does justice to the product.
Why I like this Shower Cream?:
Does what it claims. Moisturizes skin well.
Lathers well. Easy to use.
The fragrance! Transports you to a chocolate filled wonderland. Makes bathing all the more pleasant & delightful.
Quantity lasts for quite a long time, as very little is required for each time.
TBS holds these various members' & common sales very frequently. These products come at a great deal then.
Community Fair Trade ingredients. Doing my bit for humanity feels good in a way.
Why I don't like this Shower Cream?:
Does not leave behind a squeaky clean feel. That can be bothersome.
The ingredient list is always missing with TBS products on their packaging.
Oily skin might feel uncomfortable with cream consistency.
Fragrance does not last. Once out of the shower, one would have to stick their nose in their flesh to discern the chocolate out of it :(
I see surfactant base (SLS) in the main ingredient count. I thought these were surfactant free. Disappointment.  :smug:
MABH Rating: 3.5/5 (The fragrance, sadly. Wish it lasted a while. The presence of SLS. The not-so-squeaky-clean-feel too)
Do I Recommend?:
Well, since the winter months are approaching you might as well stock on it & try it for yourself. It definitely adds to the bathing experience. But I'd advise you to not expect the fragrance to linger on your skin. And then not be disappointed with it, too.
Would I Repurchase? :
For the winters, maybe. But it is going to last me for some more time now. Maybe in their coming sale, yes. I'd go for the scrub and the beautifying oil next. :)