Being a chronic caffeine addict can be super tough if you're an eyeliner lover. A 'shot' of black coffee early in the morning before class and my hands are shaking so much that liquid eyeliner looks like an ECG line on my eyelids. So you can imagine how thankful I am to the inventor of felt tip eyeliners – especially the L'Oreal Paris Super Liner – which is what I am going to review for you all today! :)
Price:
Rs 695
My Take on the Eyeliner:
The eyeliner comes in a light weight plastic packaging. It looks like a sketch pen, even more so because of the felt tip. I find the packaging a bit boring, especially the cap – I think something metallic would have looked a bit better. The cap fits snugly though so I am happy because felt tip liners tend to dry up so quickly.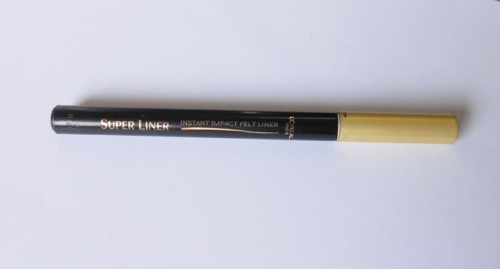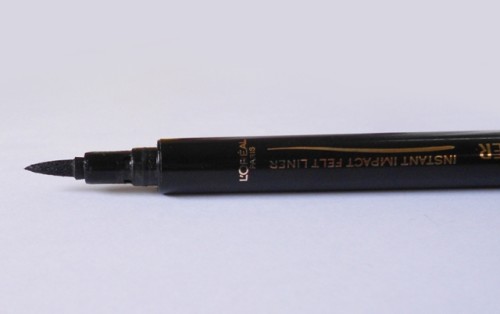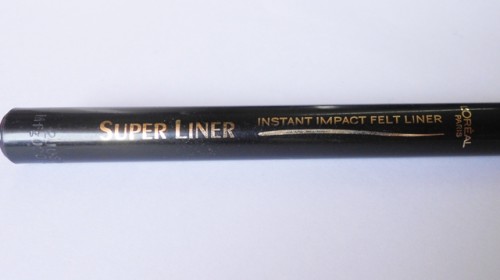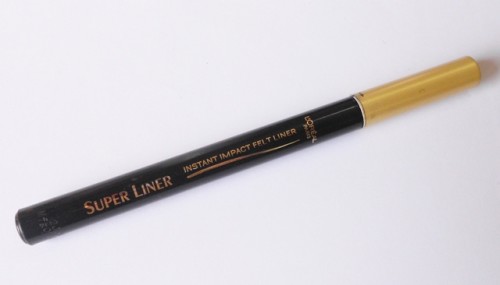 But moving beyond the average packaging, the felt tip of this liner is what makes it stand out. It is sturdy, yet doesn't tug on the eyelids. One stroke of the liner is enough to get a jet black non-streaky line. The photos show just one swipe and you can see that the pigmentation is SO intense and it has a shiny finish too! It is smooth and super, super easy to apply. It glides like a dream – any kind of line is easy to draw with this, especially flicks! Also since the tip is pointy, it is easy to fill in any gaps between the eyeliner line and the lash line. I've had this eyeliner for a few months now and it hasn't showed any signs of drying up unlike other felt tip eyeliners. What's not to love?! Oh right, it's not waterproof. That's really a bummer given its price but for me it is not that big a con so I am willing to overlook it.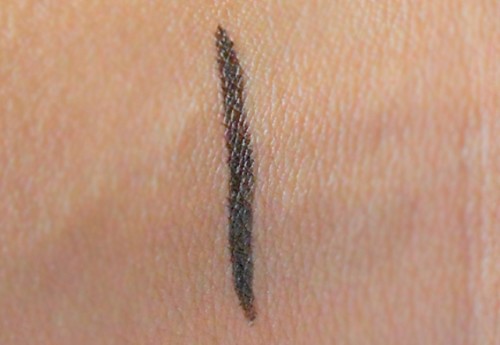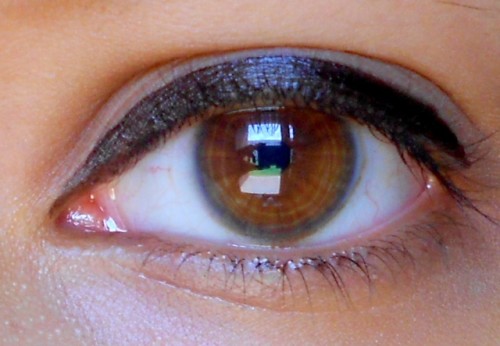 Why I like this Eyeliner?:
Sturdy packaging
Amazing jet black pigmentation, so intense!
Glossy finish
The easiest felt tip liner to use
Safe for sensitive eyes and contact lens wearers
Dries quickly (within a minute of applying)
Stays put for about 4-5 hours
Why I don't like this Eyeliner?:
Slightly expensive
Not waterproof
MABH Rating: 4.5/5
Final Verdict:
The L'Oreal Paris Felt Liner is, hands down, the best felt tip eyeliner I have ever tried – and I've tried a lot of them! (Lakme, Clinique etc). It is worth every penny and I'll definitely repurchase once I finish this! If you don't mind that it's not waterproof you should definitely try it out :)