When it comes to eye makeup, neutrals eyeshadows are my favorite! I rarely play with 2 strong colors and this time, I used bright pink and  teal green shades in my eye makeup! I wore this eye makeup with my pink and green salwar; and here is the tutorial for you :) Though the eye makeup look is simple, I loved it. Hope you will love it too!
Also Read: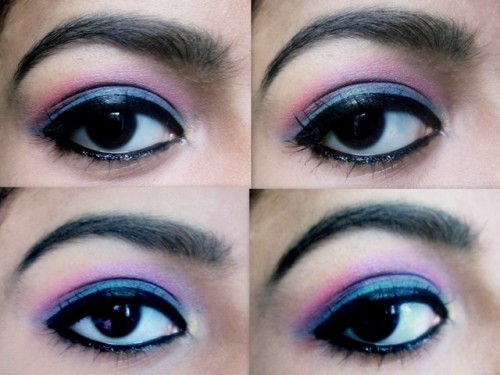 Products Used:
L'Oreal Paris True Match BB Cream
MUA Eyeshadow Palette Poptastic
L'Oreal Paris Super Liner Carbon Gloss
MUA Mascara
NYX Eye Lash Curler
Elle 18 Black Almond Kajal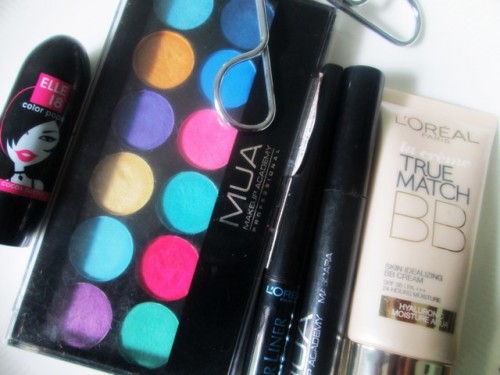 Step by Step Tutorial: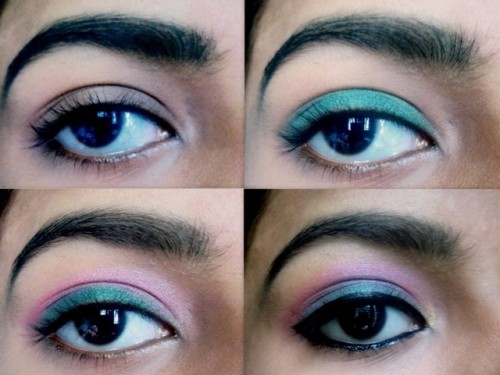 Cleanse your face and prime your eyelids. Put on a concealer or a BB cream. I haven't used any primer here. I just dabbed on some L'Oreal Paris BB cream over my eyelids to cover imperfections.
Apply a wash of teal green eyeshadow on your eyelids. I used the shade No.9 from MUA Poptastic Eyeshadow Palette. If you want to make the look more intense, give a strong wash.
Now starting from the 3/4 of the eyelid, apply a coat of your bright candy pink eyeshadow (MUA Poptastic Shade.8) evenly (On top of the teal green).
Blend both the shades well in the center using an eyeshadow blending brush. As I made this look to pair up with a traditional costume, I added a bit of golden shadow to the inner corner of my eyes :)
Now using a Q tip, correct the shades around the eyelids. Put on your black eyeliner, curl your lashes and apply mascara. Fill your brows if necessary!
Tada.. You are done! :) Teal green and pink eye makeup is over! Somehow it is looking turquoise-like on the below pictures but actually it is light teal green.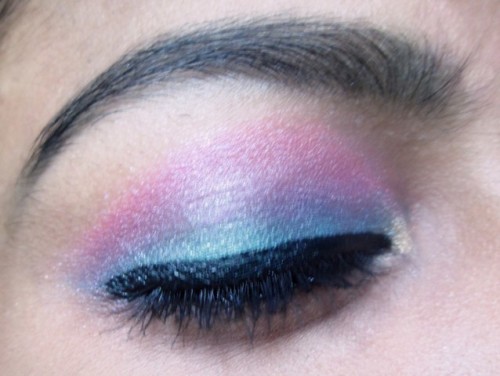 Hope you enjoyed this look! Which are your favorite green and pink eye shadows? Have you ever tried this combo? Comment below! :)