Hello everyone!
Hope you are enjoying the festival season! :) I am having fun here trying different eye makeup looks, nail arts (Yeah I am not biting nails these days!) And because of trying different makeup looks, I really have to cleanse and wash my face many times a day! This not only causes moisture loss in skin but encourages oil secretion.
Yes! You read it right. When you keep on removing the natural oils from your skin, it keeps on secreting more sebum to compensate the moisture loss. This is how my already oily skin turned into an oil factory! Thanks to Dussehra. :P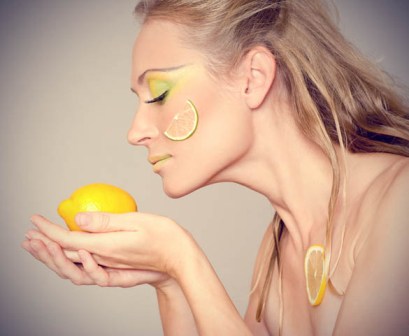 So coming to today's topic.. I have found a way to combat this oily skin – with our one and only citrus queen Ms.Lemon :) Find how I cure my oily skin with my homemade lemon facial below.
1.Lemon Cleanser: I am not using facial cleanser on my face after removing the makeup. All I use these days is a mixture of besan, lemon juice and rose water. You can even call it a face pack but I use this as a cleanser in this facil, as besan is effective as a natural skin cleanser :) However this works amazingly for me. I make a smooth cream out of all the 3 ingredients mentioned. I apply it over my face. Leave on for 2-3 minutes. And wash it off finally after massaging for few seconds. This citrusy homemade facial skin cleanser will remove excess oil without making your skin super dry!
2. Lemon Bleach Come Moisturizer: Bleach cum moisturizer?? Are you hearing it for the first time? :P But it works great! It may be an old remedy but still does good to the beauty of your skin. I combined equal parts of lime and honey; smoothed it and allowed it to sit on my face for 5 minutes. After washing away, I noticed my skin tone has improved and I can feel that softness on my skin :) With regular usage, this DIY lemon moisturizer improves complexion!
3. Lemon Oil Control Face Pack: I made this face pack with lemon peels! Grind a lemon peel with few drops of rose water. Now add required glycerin to this paste to make a smooth cream. Trust me! This pack works wonders on oily and normal-oily skin types. After using this face pack, my face glowed with natural shine! No more dryness and no more oiliness.
So this is how I made my skin oil-free naturally with lemon facial at home :D My skin stays bright and grease free for all day! Try these steps and let me know how lemon combats your 0ily skin! Happy day!

Image source: 1