Dazller is a brand which is slowly getting famous, mainly because of its lip color range and their mascara (one of the best I have seen till date). They are giving good competition to Elle 18 in the price for it is the same. Coming to this one, this is my MLBB brown and my most favourite brown from any brand till date :) They have 3 ranges I think. This one is Rs.100; there is one range for Rs.65 and another at Rs.80 respectively.
Also Read:
Price:
Rs. 100
Shade Reviewed:
116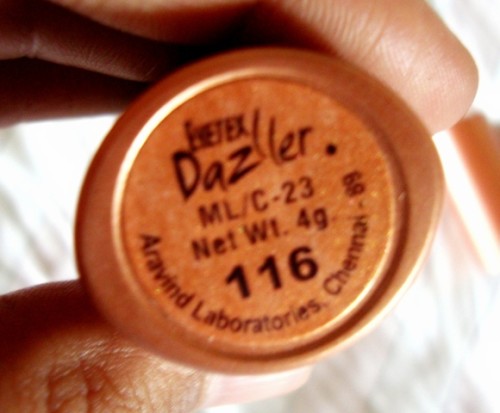 My Take on Eyetex Dazller Lipstick Shade No 116:
When you are trying them, they have a palette with round pots filled with these lip colours. They are like mini testers and I just love them. I was thinking I will just get that palette but not for sale :D
Packaging: The lipstick comes in a shimmery copper plastic case with black inside. I like their packaging actually. It's quite pleasant to the eye. The cap locks pretty well so no problem with the mess or anything of sorts. It's very travel friendly.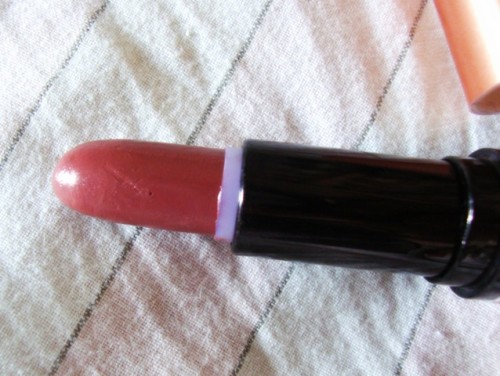 Colour: It is nude brown with slight peach tones in it. Best suited on fair to medium fair tones if you are looking for an MLBB brown and for darker tones, it will be a great brown start. For me it's just perfect.
Texture: It is very smooth and soft; glides on like a dream and has a pearl finish. I love this better than shimmers. All their Rs.100 ones have pearl finish as opposed to shimmers and give that glossy effect without that awful mess.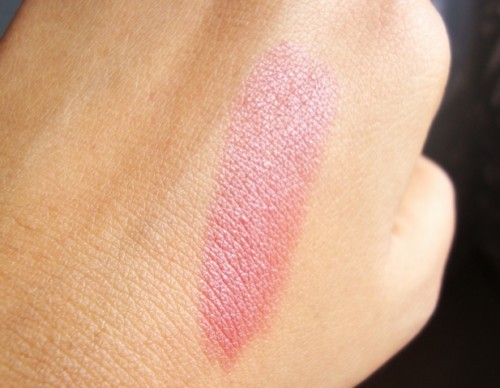 Staying power: This dazller lipstick stayed for 2 hours with light meal in between on me and the moisturisation lasted an hour more. Without meal on and not much work with your talkers, it will stay for 4 hours.
Fragrance: The fragrance is very mild fragrance like baby powder; not bothersome.
On My lips: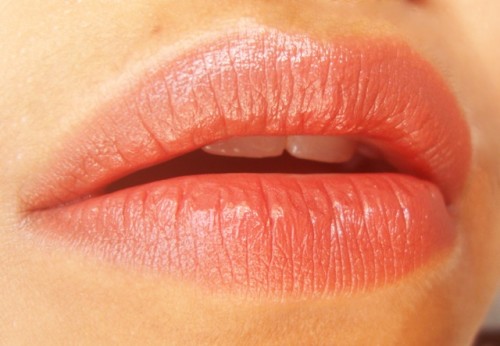 Why I like this Lipstick?:
Beautiful nude brown
Pearl finish and smooth texture
Easily available
Dead cheap
Mild fragrance and good packaging
Not drying at all.
Why I don't like this Lipstick?:
Staying power may be but I can't ask for better at 100 bucks.
MABH Rating: 4/5
Do I Recommend?:
Yes. It's a very good colour to start with and a great nude if you are a eye makeup lover like me. Good for office girls too. For the bonus, it's my perfect contouring brown cream blush. I don't know how but I managed to find the first two shades I brought in their collection as my perfect blush and perfect contour shades. As blush this baby stays on me for solid 5 hours.
Would I Repurchase?:
Till they stop making this shade.. I hope not! :D