Hello girls!  :-)
Here'e my another review on Coloressence mesmerizing lipstick. I think it is my lipstick series as well as Coloressence series also. Don't you think that?? :-P Okay now directly come to the point, I mean review. I am going to write about the Coloressence Mesmerising Lipstick in Shade Fuschia Glame which is belongs to the pink family.
Before starting the detailed review I have two lines about this brand. Coloressence is the cosmetic brand of Naturessence. Now-a-days you can find them in every magazine and some online shopping sites also. They have huge varieties of herbal product options.
Now see whether the lipstick is a worthy buy or not.
Price and Quantity:
Rs. 150 for 4 gm
Shelf life:
2yrs
Product Description:
A unique combination of coriander & basil extracts. This lip color nourishes, protects, moisturizes and is hypoallergenic. Voluminise the lips.
Ingredients:
Almond oil , Vitamin E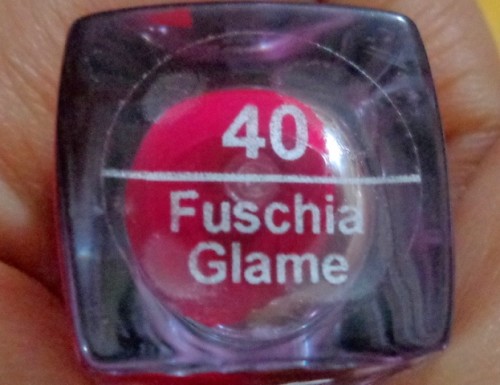 My Take on the Lipstick:
I bought this lipstick from an online shopping site some 5-6 months ago, actually it is one type of free gift I got. Because I bought a facial kit from that site and got this as a free gift. At that time I was very unknown to this brand but after using it I have 50-50 opinion for it.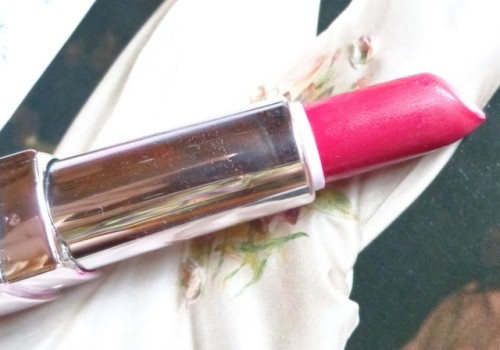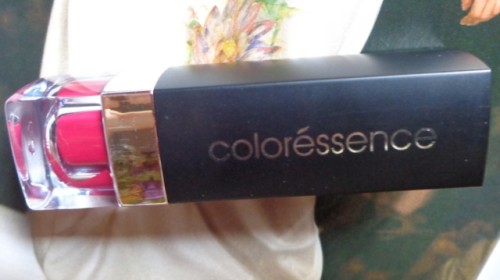 Let's see that, in the below lines. First I love its packaging. A metallic bullet with a black sturdy cap which makes it travel friendly. And at the lower part you can find the sample color of the lipstick inside a thick glass tub which helps to identify the exact color easily. As compared to its price, packaging is good but I am not sure about its quality what it claims.
The smell of the lipstick is very low standard type. I don't like it and I am sure people with sensitive nose will not like also. But the fragrance stays only for some minutes. Thank GOD.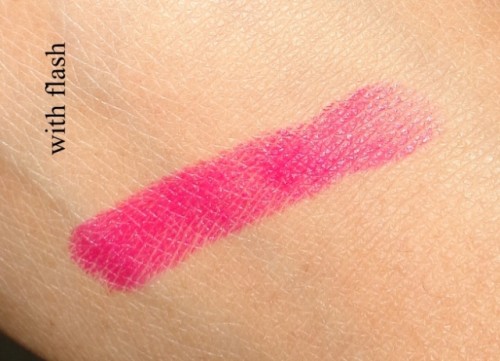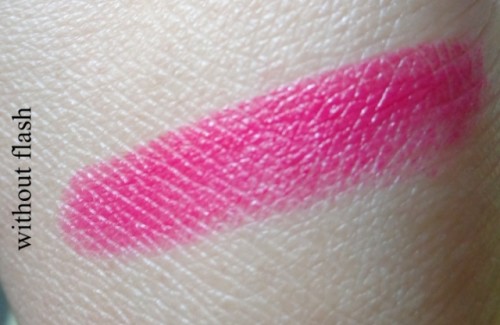 Fuschia Glame is a deep pink color with blue undertones. It is a very pretty party wear shade. This lipstick makes you look more fairer. I think it will suit all skin tones but fairy girls would rock with it. The texture of the lipstick is not so creamy, I found it a little dry.
I always apply a lip balm before it as I have dry lips, but within an hour I again feel the dryness on my lips. That is what I don't like about Coloressence lipsticks. Two coats of the lipstick gives an opaque finish which lasts for almost 2-3 hours, but after that it starts fading and lastly leaves a hint of deep pink tints which is very difficult to remove.. ugh takes lots of effort.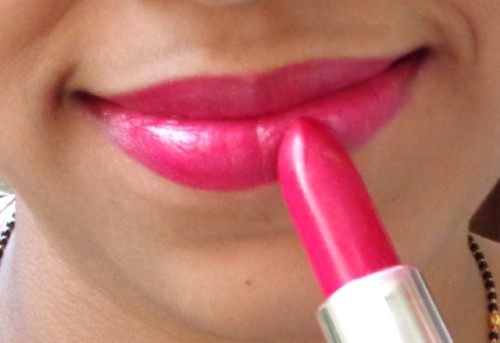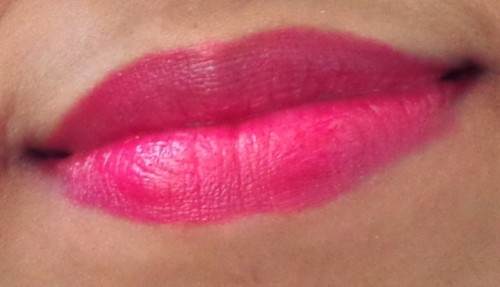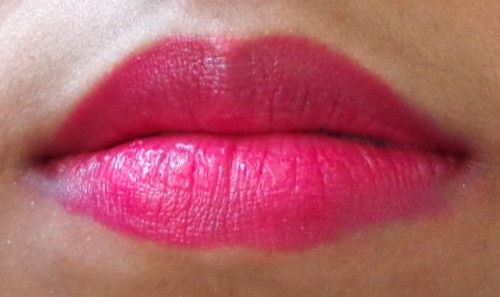 Why I like this Lipstick?:
Very pretty party wear shade
Will suit all skin tones
Reasonable priced
Travel friendly
Why I don't like this Lipstick?:
Dry texture
Hard to remove from lips
Staying power is low
Fragrance
MABH Rating: 2/5
Final Verdict:
At this price point it is an okay-okay type lipstick. If you love bright colors on your lips, then should give it a try as it is very affordable.