Hello everyone!
Green is my third favorite jewel tone after blue and lavender. But these days I am using everything in green. I got few emerald green rings, ear rings, a green anarkali. Let's talk about my favorite part of makeup now. This eye pencil was brought after I had great results with cobalt green and blue one.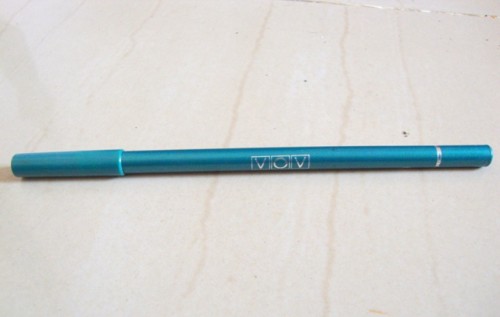 Product Description:
It says long lasting and crème
Beautiful teal green color.
Good pigmentation and gives eyes a dash of Smokey looks.
How to Use?:
Line your eyes with this pencil along with lots of kohl for super green eyes.
Price:
Rs.55
Shade Reviewed:
Green (teal green)
My Take on the Eye Pencil:
Packaging: It is color coded with a number 003 written in it. Packaging is sleek; travel friendly and a really tight cap so no mess in your purse.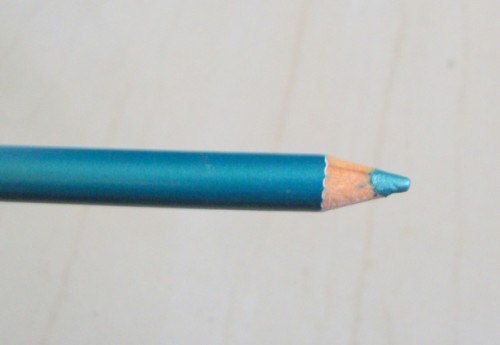 Colour: It is an intense teal green. It tends to look emerald green here actually in natural light but looks more bluish in artificial light. The colour is superb, excellently pigmented. It goes amazing with warm and cool skinned girls because of its slight yellow and blue tones (maybe the reason behind the artificial and natural light thing). I usually wear this with black on my anarkali and it goes really well like that.
People with really dark skin tones may not agree with this one but otherwise it will suit every skin tone there.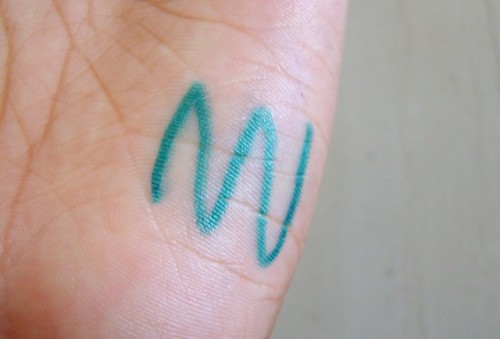 Texture: It is creamy but not too buttery or anything. It can easily be swiped without tugging but does not break even if too much pressure is applied. Pigmentation is not uneven as my previous VOV blue eye pencil. Single swipe gives good colour like on my hand swatch here. (It is darker than it looks guys)
Staying power: The eye pencil stays for 5 hours solid. I love this more than all the ones I got from the bunch. Well there is one metallic blue one which I love the most but these two are neck to neck in staying power.
Fragrance: None. Easily removable
On My eyes: Pencil in inner half of eyelid and black on outer half. I again lined with pencil on lower lash line with a single coat of dazzler mascara. Water line has light kohl.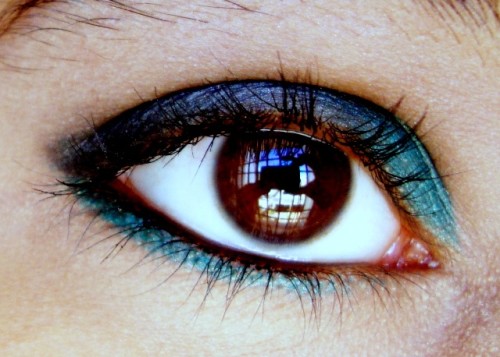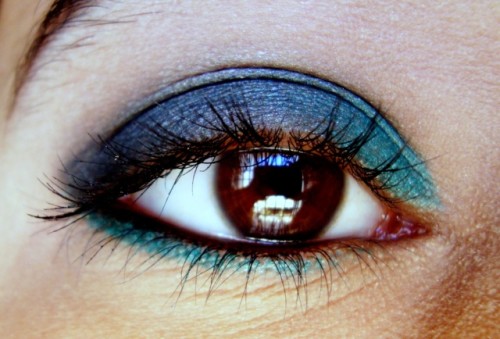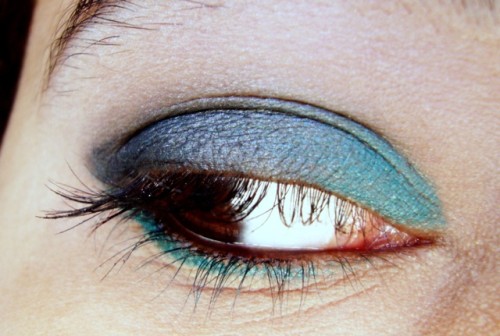 Why I like this Eye Pencil?:
Intense teal green color
Great staying power
Creamy non tugging on skin
Smudges easily if you need like an eye shadow
Stays without smudging
Good price and quantity
Why I don't like this Eye Pencil?:
MABH Rating: 4.5/5
Do I Recommend?:
Yes. I know you guys will love this!
Would I Repurchase?:
Yes, I will. If I am lucky to find it again :)