Good day everyone! :)
When we think of budget BB creams available in India, the first ones to strike our mind are Maybelline, Ponds and Garnier BB creams. All these three have been reviewed here on MABH. What we are going to see today is their short reviews and a quick comparison.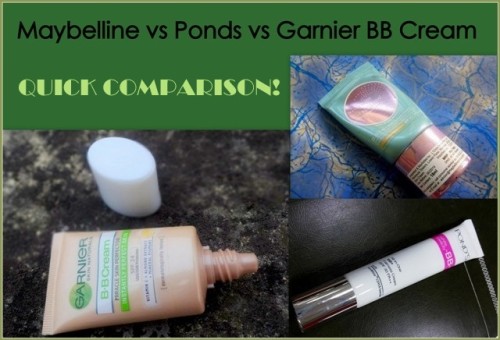 Maybelline Clear Glow Bright Benefit Cream
This BB cream costs Rs.199 for 18 ml and comes in 3 shades namely nude, radiance and natural. Nude is the darkest shade of all, natural is the second darkest whereas radiance is the lightest shade. It has SPF 21 which is an added bonus. This BB cream suits combination skin types well. If you have extra dry skin, you will need a base moisturizer and if you have oily skin, it might not help you with oil control.
The shades are limited too. Hence, if you find your exact match among the 3, you are going to be lucky :)
Ponds White Beauty Fairness BB Cream
Ponds BB cream costs Rs.125 for 18 gm. Personally, I don't like the 'fairness' tag added to this BB cream. For me, a BB cream should even out skin tone with natural coverage; but fairness factor is just a marketting gimmick by Ponds. Okay lets ignore it.
Compared to the Maybelline BB cream, this one provides extra coverage (medium coverage) and instantly adds glow to the skin. But you have to be careful while blending this cream as if used too much, it leaves a whitish cast (SPF 30 Are you the reason?) Dry skinned girls will need to moisturize their skin before application and this Ponds BB cream will definitely not suit oily skinned people in hard summer (Delhi/Chennai like hot summer!)
The main drawback of this cream is that it only comes in ONE SHADE! Why this kolaveri Ponds? :-P Dusky-dark skinned girls like me should forget this cream if they are not going to introduce more shades.
Garnier BB Cream Miracle Skin Perfector
Garnier BB cream claims to contain Vitamin C and almond extracts with SPF 21. The cost of this product is Rs.99 for 18 ml. Similar to the Ponds BB cream, it comes in only one shade too. The coverage is sheer and it adds subtle glow to the face. If you have dry skin, don't forget your moisturizer and if you have oily skin, don't forget your compact.
Dusky skinned girls may not love this BB cream at all if it fails to suit their skin tone. If you find your foundation heavy for daily usage, then switch over to this Garnier BB cream. If the shade matches your skin tone and the texture matches your skin type, you will never stop repurchasing this one!
Final Verdict: 
All these 3 BB creams come in compact, user friendly tubes. They contain SPF for sun protection. The only problem is the shades available! Garnier and Ponds BB Creams come in a single shade whereas Maybelline comes in 3 but still it will not cover dusky beauties.
Coverage wise, Ponds BB cream is better. Second place goes to Maybelline BB cream and if you don't have imperfections, choose the sheer Garnier one.
Staying power wise, I am not sure. If you blend the BB cream properly and dust it with a compact, it is going to stay longer. I guess Ponds one will stay longer (as per user reviews)
So if you have extra dry skin or extra oily skin, its a doubt whether these BB creams will suit you or not. If you are dusky or tan in complexion, its hard to find a shade too.
Only if these brands come up with shades for dusky-dark skin tones and add some oil control or mattifying property to the cream, I am going to try one! (Or they may even have variants for oily, combination and dry skin types separately than confusing us with the All-in-one tag!)

For now, I am staying away from all the BB creams above. What is your opinion? Which BB cream are you using currently? Don't forget to share your views below!