Hello everyone!
Tanning is one avoidable happening if you are living in a hot place like Chennai. We can add Delhi, Hyderabad and other hot cities of India to the list as well. When there are numerous face pack recipes listed on internet to remove sun tan, there is something that should be done right after getting tanned to lighten back our skin tone. And that is what we are going to check in this post.  :-)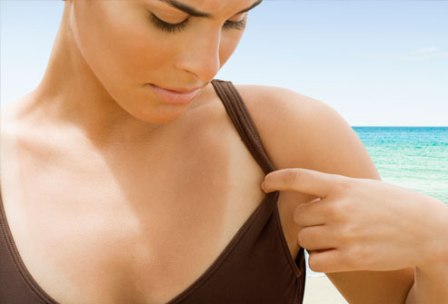 Calm Your Skin:
Be it face, hands or legs; soon after reaching home, splash cold water and wash the area which was exposed to sun light. You can use a mild liquid face wash or body wash to clean your skin. Cleansing and calming down your skin soon after getting tanned minimizes the bad effects of tanning – which leads to uneven skin darkening.
Instead of Moisturizer, Use Gel:
Gels work best when it comes to tan removal. Moisturizing your skin with a cold moisturizer or a cold cream will work good too. But if you can smooth some fresh cold aloe gel over tanned skin, it will instantly calm down the burnt skin and reverse the process of darkening up to a great extent.
Avoid Harsh Chemicals and Bleaches:
Okay. So you have a party this week; but unfortunately, you got badly tanned and now you look all dull. Please don't use bleaches or any other harsh skin lightening chemical on your skin soon after sun exposure. Allow 2-3 days for your skin to get repaired by itself. Using chemical cosmetics after a tan, may lead to skin redness, itchiness and what more – You risk to get even more darker, uneven skin.
Besan, Curd and Glycerin does Wonders!
Mix 2 teaspoons of besan with required curd and few drops of glycerin. Make it a smooth paste. After washing your face, (and other tanned parts) apply this homemade skin lightening face pack all over your skin. Leave on for 15 to 20 minutes and relax.
Now wash your face with cold water to see the magic! All you will get is smooth, soft skin with almost no tan. You can use this pack twice to thrice a week for best results. Don't forget to try this pack at least once; It is my HG DIY one and it does wonders!  :-D
Image source: 1