Hello dearies!
Lotus lip balm has been my all time favourite over years. I have used all their flavours till date. Recently I started testing other brand lip balms as well. This is my recent pick from Fabindia. (Check my recent Fabindia haul). I am slowly loving Fabindia products. Does it sound silly if I say I brought this one because I was so attracted to its pink colour? :-P
Lets check out how this product fared.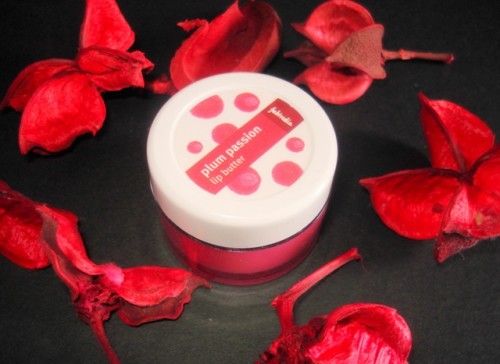 Price and Quantity:
Rs.85 for 10 gms
Ingredient List:
Cocoa Butter Lonolin Anhydrous, Wheatgerm Oil, Cetyl Alcohol, Emulsifing Wax, Microcrystilline Wax, Sorbitan Olivate, Carpriloic Capric Tryglyceride, Seasame Oil, Vegetable Sqalene,
Beeswax, Kokum Butter, Olive Wax, Tocopheryl Acetate, Plumb Passion Essence, Propyl Paraben, Butylate Hydroxy Toluene.
Variant reviewed:
Plum Passion
My Experience with Fabindia Plum Passion Lip Butter:
Lip balm is the primary essential beauty care product to me. Winters or summers I just can't pass a day without using them. I always have 3-4 lip balms lying here and there at home. This Fabindia lip butter comes in a very basic and similar packaging like Lotus lip balm, just that Fabindia comes with more quantity. The screw cap is intact and the tiny jar easily fits into even the tiniest purse.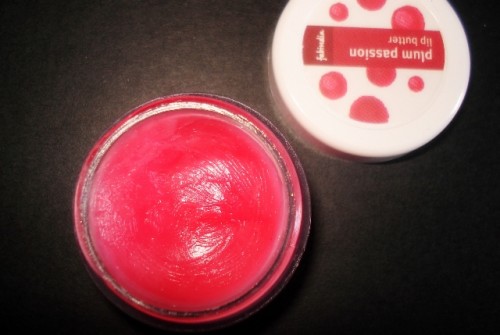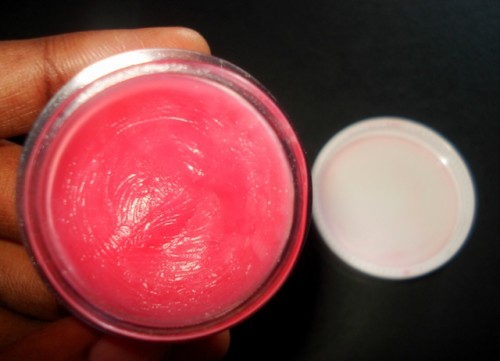 The lip butter colour is a beautiful pink with an artificial waxy smell. When I first used it, I almost hated it. It does not have a pleasant smell and does not glide smoothly over lips like other lip balms. Still I didn't want to jump to conclusions. So I used it for 3 weeks and now I am sharing my experience here.
The lip balm is waxy kind of consistency and I have no idea why Fabindia named it as lip butter!! I find the pink colour lip butter extremely attractive (I know I'm mentioning it for the third time here!!). On application, the lip butter is not pigmented and turns just transparent. It does keeps my lips hydrated for about 3-4 hours. After that I do reapply and I don't consider this as a con.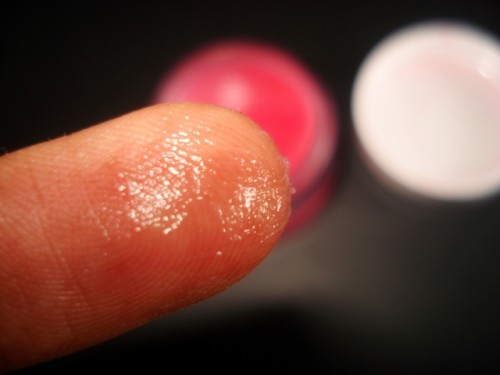 While using lip balms you must have noticed that after a couple of minutes, the lip balm melts a bit and there is a greasy texture on the lips. This does not happen with Fabindia as the texture is waxy and not buttery. Overall I am satisfied with this one and I don't find any reason not to buy this in future.
Why I like this Lip Butter?:
Keep lips hydrated
Waxy texture
Dirt cheap
Easily available online
Against animal testing
Why I don't like this Lip Butter?:
The weird smell
Lacks SPF
Difficult to scrap from the tub
Not tinted ( few might prefer tinted ones)
MABH Rating: 4.3/5
Do I Suggest?:
I do suggest this fab Fabindia product. Girls who regularly use lipsticks can use this as a base.
Will I Repurchase?:
Not this one. I am eyeing the Vanilla flavour next time!!
Hope you liked this review. So girls, which is your current favourite lip balm?? ?:-)