Hello everyone!
How many of you here suffer from rashes on face? Causes are many. But prevention is always better than cure. Right? So today, we are going to see top five rules one should follow in order to avoid rashes on facial skin. Instead of spending your hard earned money on scar/spot removal treatments, prevent rashes before hand and start loving your skin with these tips.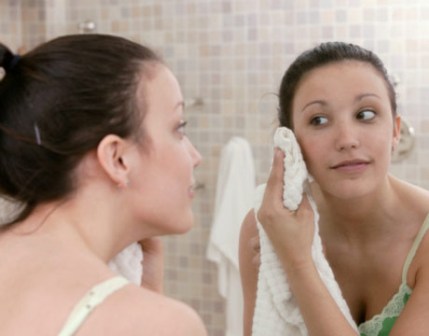 1. Keep Your Mobile Clean:
This is the first thing to do if you are a great talker  :-D Avoid getting your mobile screen in touch with your face (Cheeks) Talking in phone for long time without cleaning the sweat and dirt from your screen is one of the main causes of face rashes. Use your headphones next time. What say?
2. Don't Touch Your Face:
It doesn't mean you shouldn't touch your face at all. It is okay to touch your face while washing your face and while putting on your moisturizer. But don't touch your face unnecessarily. Don't let others touch too.
3. Change Pillow Covers:
Do you know? Oils and sebum your skin secretes, settles into your pillow cover and develops bad bacteria. This bad bacteria is the culprit if you find rashes on your face soon after waking up from sleep! Change your pillow cover once in 2-3 days. If you are a person who regularly oils your hair, then make it 'everyday'. YES! Everyday.
4. Cool Down Your Body:
Other than infections, even excessive body heat can cause facial rashes. Stick to drinking tender coconut every morning. Bath twice a day and wash your face with cold water often. Have fruit salads and juices often.
5. Food Allergies:
Check whether if you are allergic to milk or fish. Some foods can cause skin allergies resulting in rashes. In case of food allergy, consult your doctor and change your diet according to that. Topical treatments won't help if food allergy does it.
Rash free skin is clear and beautiful! Be it pale, dark, olive or tan; if you have that clear skin, your skin is the most beautiful skin :) Prevent rashes. Stay clear!