Hello everyone!
Sometimes you have an evening out – maybe a formal occasion or a party with colleagues. So which shades can you wear that will look glamorous yet understated, that'll give you that posh look without being over the top? Here I have listed five gorgeous nail polishes that fit the bill! Each below will make a perfect evening wear nail polish. Have a look! :)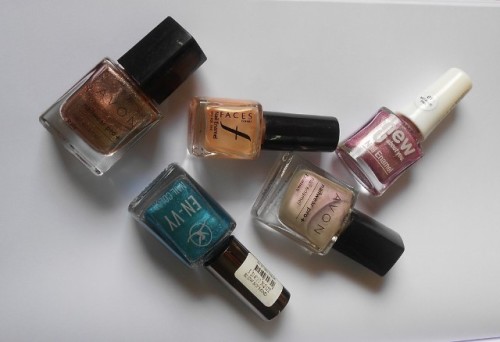 1. Faces Canada Nail Enamel – 11 Precious Peach
Ever since Lancy asked me to try out Faces' nail enamel, I haven't looked back! These super cute nail polishes come in a plethora of colours and varieties – shimmer, creme, and pastel! Precious Peach is a lovely golden glaze nail paint that has very minute gold shimmer. This evening wear nail polish is perfect for teaming up with a classic dress!
Price: Rs 99
Quantity: 7 ml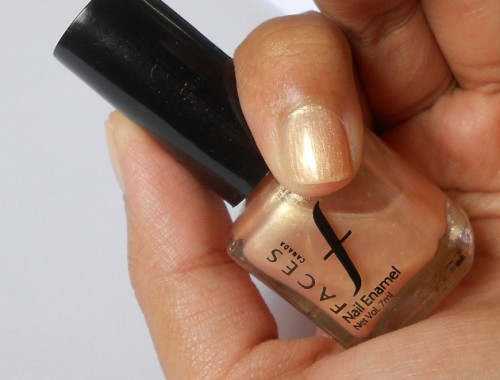 2. EN-VY Nail Enamel – 44 Blow my Mind
The EN-VY nail polishes are available in many gorgeous shades at Health n Glow stores. I love these because they retail at only 50 bucks! I know I am talking about formal nail polishes but in the event that you're allowed a bit of colour in your manicure, you should totally consider this nail polish!! 'Blow My Mind' is a lovely jewel toned teal shade with micro shimmer that gives it a whole new dimension. Definitely worth purchasing!
Price: Rs 50
Quantity: 9 ml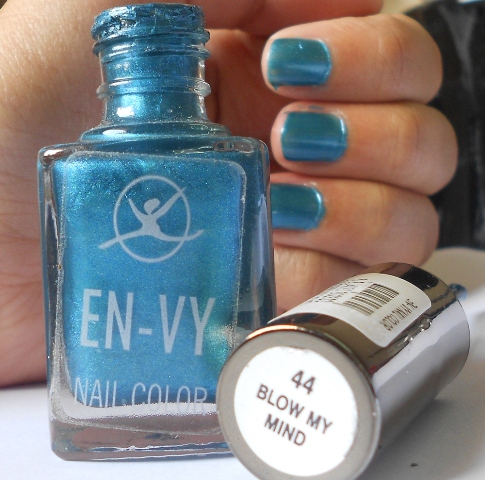 3. Avon Nailwear Pro+ Nail Enamel – Rave
Rave is one of those nail polishes that you can wear that is sophisticated and yet can be worn in a formal environment – to work, a formal party, etc. it's essentially a nude nail polish with a ton of bronze shimmer which I think will look just gorgeous with a black top/outfit!
Price: Rs 159
Quantity: 8 ml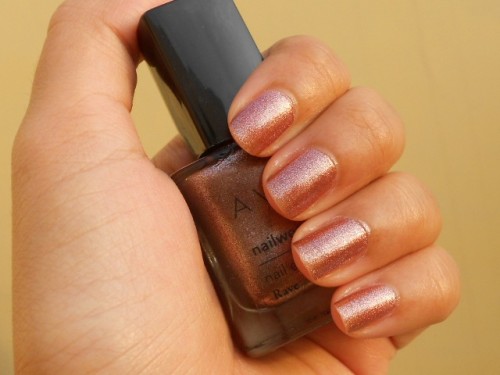 4. New U Nail Enamel – 01 Metallic Pink
I have talked about the New U nail polishes previously in my Best Budget Blue Nail Polishes post. Metallic Pink is a classic mid-toned pink that is bursting with extremely fine silver shimmer which takes it from blah to wow instantly! It is also a universally flattering shade of pink so you can't go wrong with this one! No one can deny the face that it is the cheapest, yet the best and beautiful pink evening wear nail polish.
Price: Rs 40
Quantity: 5 ml
5. Avon Nailwear Pro+ Nail Enamel – Romance
I've reviewed this beautiful nail polish on MABH and it is one of my favorite subtle nail polishes – it is soft and romantic and girly and would go with any outfit! It has a lavender sheen and a glazed finish that will complement many skin tones.
Price: Rs 159
Quantity: 8 ml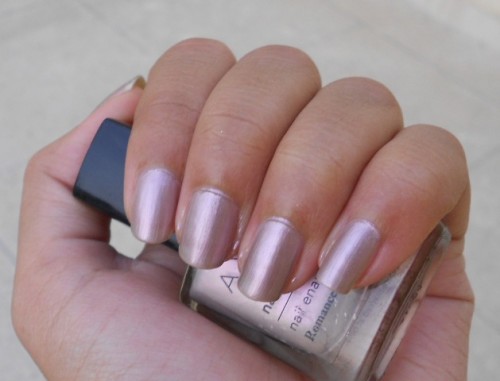 Hope you girls liked this post! Don't forget to leave a comment with the name of your go to glam nail polish so that I can check it out! Stay beautiful!! :-*