Hello girls!
It is often believed that a woman is the best enchantress by the virtue of her eyes. She has all the tricks up her sleeves to use her eyes in the most perfect way so that she can create a unique spell on those around her. And truly speaking eyes are indeed the most beautiful facial features of any woman.
They speak volumes about her without, she uttering a single word. So every woman should spare at least an hour or two from her busy schedule and keep it aside for a mindful or informed purchase of the most appropriate eye makeup for her. Most of us tend to get caught in the same old color rut and end up shopping that one very conventional beige eye shadow. The vast range eye shadows showcased in the aisle of any reputed beauty store actually leaves us utterly confused and we at the end of the day fail to decide what's best for us
No more guess work! Why take chances with those pair of beautiful eyes of yours? Beautify them all the more and attract everyone's attention by picking the right eye shadow.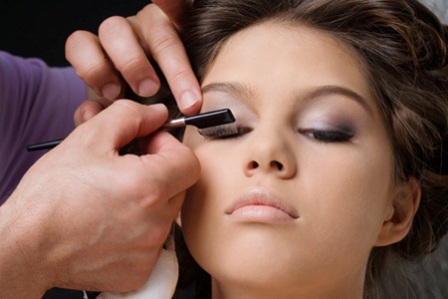 Your selection of the eye shadow should complement, rather accentuate the color of your eyes. The sole goal of applying eye shadow in other words is to highlight the color of the eyes, not that of the shadow. So you should never commit the blunder of wearing the same color of eye shadow as that of your eyes. Believe me or not if you do so, the two large colored blobs amid your face will look quite horrible indeed!
So women who have blue eyes should opt for contrasting eye shadow colors such as pale peach, silver, gray, purple, fuchsia, turquoise etc. Women with brown eyes should opt for neutral eye shadow colors such as bronze, beige, copper, champagne, royal blue, khaki-green.
Those with hazel or green eyes should opt for eye shadow colors such as gold, gray, lime-green, forest-green, brown, purple, khaki, golden brown, caramel colors. Women whose eyes are deep-set should not use dark eye shadows to color up their eye lids. And women whose eyes are not large enough can give their eyes an expressive large eyes-like effect by applying light color eye shadows.
The right eye shadow color can turn commonplace black eyes to the dense black wisps of night, blue eyes to the glittering sapphires, brown eyes to swirling chocolate pools, and green eyes to the scintillating Emerald gem stones.
Thus if a special occasion is on the cards, augment your charisma and give your eyes the most stunning and dramatic effect with the right eye shadow. :)