Most fashion conscious belles and women today love to sport their long legs and sleeveless arms. Going bare on on lookers and enchanting them with your typical feminine charms is now looked upon as something that you have every right to do. This is because you are a woman; the nymph of beauty; one whom God has created with utmost care and passion. Yes today's women are very conscious about their body; they don't mind sporting and flaunting their beautiful curves and lines in public.
In order to expose certain body parts women often have to go in for beauty treatments like waxing. Itis a hair removal procedure that'll remove all hair from your skin from the very root leaving your skin smooth, glossy and sexy. Waxing since many years has been a popular beauty rite among st women all across the globe. Waxing can be done on the legs, arms, hands, thighs, backs, buttocks.
Hot waxes can be used during the procedure or even cold waxes can be used. Also nowadays another type of Waxing has come up called Brazilian waxing for the Bikini wearers. It is pubic area waxing. Whatever waxing you are opting for, your skin becomes really sensitive and vulnerable after a waxing treatment and so you need to take special care of your skin post waxing.
Here are some tips on how you should care for your skin after a waxing treatment.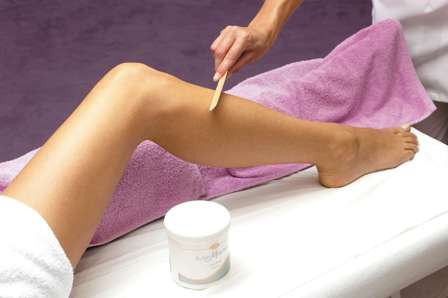 Also Read:
Post Waxing Skin Care Tips
First use a baby soap to clean the area that has been waxed or any medicated soap that's very mild and then gently rub ice cubes on that area. This will lessen inflammation and close opened skin pores.
Next apply Hydrocortisone cream on the area. It with act on the breakout of red spots and will heal those quickly. You can even apply tea tree oil or lavender oil or aloe vera gel instead of Hydrocortisone cream on these eruptions. These will also have a soothing effect on your skin.
Avoid sun exposure, saunas, steam baths or any other kind of luxurious heat treatment for at least 48 hours following the waxing treatment.
Don't apply sunscreen lotion, deodorants or perfumed talcum powders on the waxed skin for about 48 hours post waxing.
Use lukewarm water or cool water while bathing.
Don't swim within the next 48 hours because your waxed skin may get irritated when coming in contact with the chlorinated water.
Avoid exercising, going to gyms or practicing any kind of sports for next 48 hours following a waxing treatment.
Wear comfortable loose-fitting attires that'll cause no friction on your waxed skin surface
So these are some post waxing skin care tips you should follow after you have waxed you skin. These will help you to avoid the common post waxing woes like red spots, skin irritation, ingrown hair and open pores. :)