If you are interested in beauty topics and love to beautify yourself then I am sure you have heard about one age-old beauty recipe that your mom and granny often might have suggested you perhaps for a fresh glowing and supple skin. Well, any guesses? It's the milk bath. When a glassful of milk is served to you on breakfast table everyday have you ever felt about indulging in a milk bath or using that milk for a luxurious skin beautifying ritual? Yes, you should start thinking because milk bath for skin can have many benefits and bathing with milk is indeed a timeless skin beautifying ritual.
If you delve into the histories, you'll know that in ancient Egypt, France and England it was a common practice among the ladies of the royal families and the aristocracy to bathe in milk. The famous Egyptian lady of charms Cleopatra for instance indulged in the exotic milk baths. During that era not only cow milk but also goat's milk as well as camel's milk were used for milk baths. In France and England, milk baths became popular around 16th-17th centuries.
Also Read: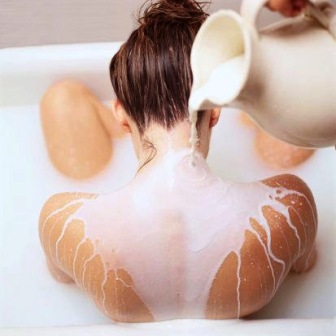 Milk when used on your skin can effectively cleanse your skin as well as condition it. Now why exactly is milk bath such an admired skin beautifying ritual?
Milk contains a very mild natural acid called Lactic acid. This is actually the alpha hydroxyl acid which has an extraordinary power of sloughing off dead skins from your body. This is because it can instantly dissolve all sebum and glues that cause dead skin and dry skin cells to cling to your body. This makes milk an excellent exfoliating agent that can cleanse your skin thoroughly deep down to the innermost layers even. So now you know I think what the beauty secret of Cleopatra was and what it was that made her soak herself in a bath of fresh creamy milk daily.
Also the fat content in milk; i.e. the natural cream in milk is very good for dry skin. It can condition skin thoroughly, hydrate the skin making it baby smooth and supple. After a milk bath your skin will be free of dead cells; it will glow like anything and there'll no dryness or stretchy feeling on your skin at all.
You could thus try a milk bath today itself. It's easy. Just fill in your bathtub with lukewarm water. Add 2-3 cups of warm full-fat creamy milk into your bath water. Then add 4-5 heaped tablespoons of milk powder. Add 4-5 drops of some essential oil like lavender or rosemary to the bathwater and soak in the bathtub for about 15 minutes. Next with a loofah gently scrub your skin so that all dead skins are removed. After that, rinse yourself thoroughly.
Nowadays even almond milk, soy milk, butter milk and coconut milk are being used in innovative milk bath recipes.
You'll feel the glow in your skin for yourself and people will compliment you on that! :)