Okay so, I had a classical guitar programme last week and I had to wear saree in that. Generally, I love saree but I don't wear until it is a big occasion, I can remember I wore saree last time in my last year guitar programme! So, anyways, when I was asking Dharu, the fashion designer in a friendly manner that what makeup should I wear with saree, she requested me to do a FOTD post on that. And, how can I say no to lovely people like Dharu and cute little Lancy?
First of all, I want all of you excuse my not so good makeup and pictures, as I had to leave my house at 2 pm and I did my makeup in low light at 4:30 pm; and the pictures I took at 10:30 pm after I got home! So, you can understand my situation, I had not only to perform but also to manage backstage which was very much tiring. Still, as I promised, I clicked my pictures for you guys, I know they are not that good, but still..
Also Check:
Products I have used:
Elle 18 Duo Eyebrow Pencil
The Body Shop Shimmer Cubes Palette 06
Elle 18 Black Out Liner
Oriflame Power Shine Satin Lipstick Satin Mauve
Coral Blusher
Jewelry I Wore:
A pearl set of earrings, bracelet and necklace which my parents got me from Hyderabad.
How did I do it?:
Since, I had to stay in makeup for a long time; I only used my trusted long-lasting products as I knew I would not get chances to re-apply makeup. So, to start with, as I was wearing a very simple saree, I had to needed to keep my makeup low. I added drama to my eyes with extended eye liner (not perfect straight lines, I know! Oops!) and gold and bronze eye shadow, where I played down my lips with a pinkish mauve lipstick. I also applied mild contouring on the cheeks and forehead.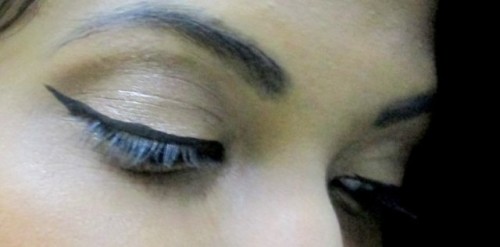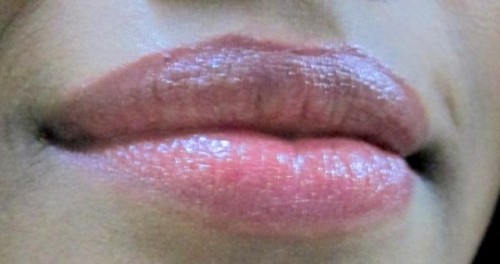 This saree was like a uniform, as us four girls planned to wear same saree to make our performance look more ecstatic. So, many asked me 'why this simple saree?' and that's my answer. I also received few suggestions on wearing bindi, but I don't wear bindi as I always lost it somehow within 30 minutes of wearing it; I guess it is because I don't have the habit of wearing it.
I wore this pearl set which I adore, it has simplicity and class also. I hope I made a good pick on jewelry though (Dharu?). Sorry, as I myself clicked all my pictures so there is no picture of my wearing the bracelet, that is why I put a picture showing the jewelry I wore.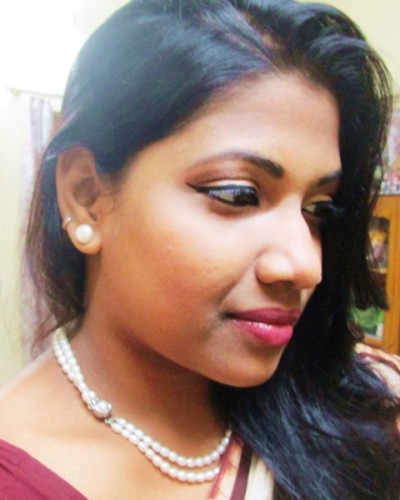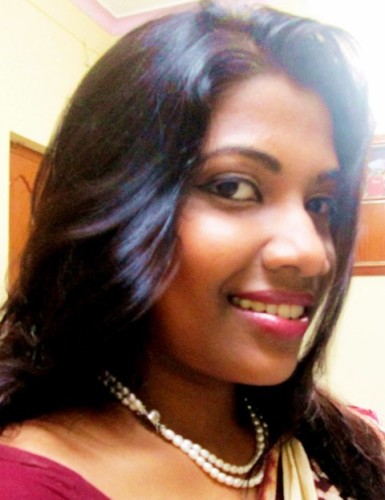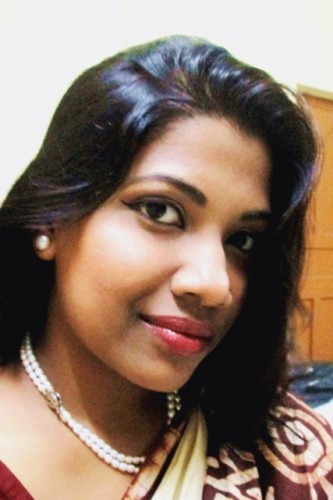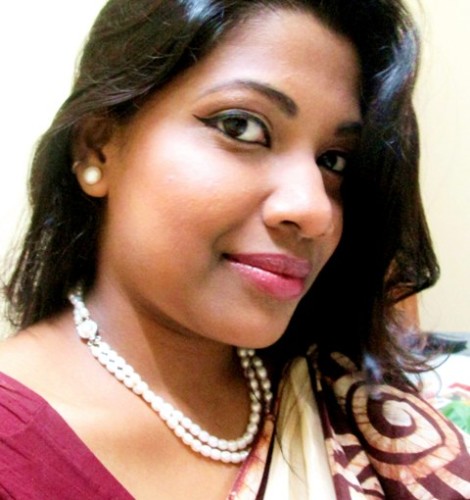 Moving on to my nails, I did it according to the color of my saree with gold (as my eye shadow); I kept it simple and yet eye conic.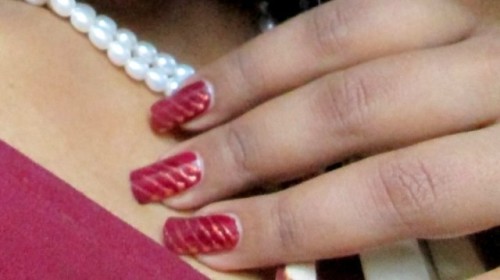 Anyways, I know I am not perfect but I only try! So, I hope you guys like my look, so please share your views and again, I am open to suggestions, may be for my next year guitar performance! :P