If you are someone who is strictly against using chemical cosmetics on your skin and want to go natural or pure herbal on your skin then you have definitely heard about the wonders of the miracle herb 'Aloe Vera'. Yes it's indeed a miracle herb that comes with a wide range of benefits for your skin.
Beautiful skin after all is a God-gifted asset. It's delicate and deserves to be pampered by the best natural products only. Why spoil it by using the harsh chemical cosmetics? If you use Aloe Vera directly on your skin or Aloe Vera-based skin care cosmetics you'll be on the safe side and will be able to do justice to your skin.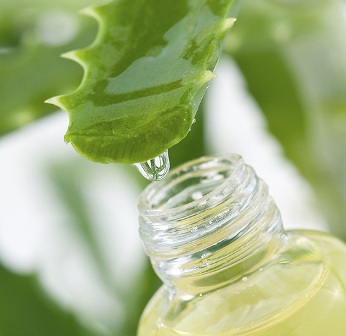 Aloe Vera plant is a sort of cactus falling under the Liliaceae family. Aloe Vera grows in clusters in the arid regions of Africa and some parts of India too. Due to its multiple medicinal benefits Egyptians in the ancient era named the plant as wondrous a 'Plant of Immortality'. Today however the world is crazy about the skin care benefits of aloe vera. Therefore many beauty care product manufacturers are using aloe vera in products like skin nourishing aloe gels, lightening creams, acne scrubs, lotions for sensitive skins and so on.
Aloe Vera indeed plays a very dominant role in skin care. Let's see how:
The sap that oozes out of the aloe leaves can be an excellent remedy for dry, flaky skin. It can act as an excellent non-greasy moisturizer. If you have an oily skin, the aloe sap can be a very good moisturizer for you. Also if you are into using mineral-based makeup, make sure to apply the sap all over your face just before makeup application. This won't allow your face to dry up.
Acne problem is a very common problem among teenagers and it occurs due to clogged skin pores and over-activity of the sebaceous glands. The aloe sap is rich in two special hormones called gibberellin and auxin. These hormones treat the inflammatory conditions of the acne affected skin, heal the pimples and erase scars, trigger new cell growth and also lessen itchiness of the acne affected areas.
In the summer months most of us are affected by the problem of sunburns. Application of aloe sap can offer a soothing relief. The antioxidant rich sap acts powerfully supplying optimum nutrients to the epithelial skin layer expediting the sunburn healing process.
If you want to retain your youthful glowing look for long and keep those abhorrent wrinkles at bay, then again you have to resort to aloe vera. The sap is rich in antioxidants, Vitamin C, E, beta carotene which can prevent your skin from sagging, retain its elasticity, prevent wrinkles from appearing and thus make you look 10 years younger than your actual age!
Our body weight does not always remain the same. Sometimes we put on a lot of weight quite rapidly and even lose weight quite rapidly due to things like exhaustive dieting, workouts etc. This rapid loss of weight or weight gain may lead to appearance of ugly stretch marks on our body in areas such as belly, waist, thigh, hip etc. Pregnancy can also lead to the appearance of stretch marks. But worry not because with regular application of aloe sap your stretch marks can totally vanish.
So now you know how important Aloe Vera is for skin care. :)