Women since time immemorial have been engaging in countless beauty rites to get a flawless glowing skin. Most beauty conscious women feel some sort of a pride when they are complemented for their beautiful skin and so they leave no stone unturned to look beautiful. They do not hesitate buying the costliest beauty products in the market and splurging on the costliest skin treatments in the most lavish parlors and beauty salons.
Facials as a skin treatment have long been prevalent in the market and there are various types of facials coming in different price ranges. An expert beautician with trained hands will know the right facial techniques and steps because each facial progresses in a step wise manner and each facial type is unique in its own way coming with its unique skin benefits.
A luxurious facial that many women are opting for today is Gold facial. It is one must-to-be opted for beauty treatment in any of the bridal beauty treatment packages. You can opt for gold facial even if your wedding is not on cards or you are already wedded and simply want to remain ever graceful. The reason is that, this facial comes with numerous skin benefits. The facial mask that is used during gold facial is generally composed out of a Gold foil of 24 Carats.
Given below are some of the major skin benefits of gold facial: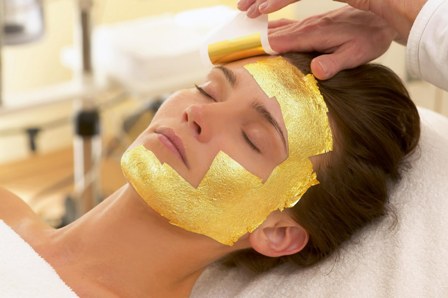 Skin Benefits of Gold Facial:
The first and foremost benefit of gold facial is that it can be used to enhance the beauty of all skin types; i.e. whether it is a normal skin or a dry skin or an oily skin, this precious soft metal will be readily absorbed into your skin, giving your skin firmness, elasticity and erasing fine lines and wrinkles. So if you wish to look youthful for a long time gold facial is one exotic beauty secret that you can avail.
Gold facial facilitates skin detoxification by triggering lymphatic drainage. Thus it can control the problem of acne-breakouts, skin scarring due to acne.
Research indicates that gold has an immense power to expedite the procedure of skin cells regeneration which actually shows up in the exceptional skin radiance and brightening that occurs after a gold facial treatment. The brightening effect is also due the power of gold facial in controlling pigmentation. Speedy skin cell regeneration can also restore the damage caused to your skin due to acne.
Blood circulation on your facial region improves greatly due to gold facial and this is again one factor that restores oxidation damages, promotes cell renewal and improves skin glow.
Sun tanning and photo-aging can be reversed quite effectively with gold facial.
So if you want your face to shine like the precious gold you could indeed opt for a gold facial that comes with endless skin benefits. :)
Image source: 1