Hey everyone!!
The weather these days is not so pleasant and my skin is behaving oddly. A good hand cream has been on my wish list for long time now. With my purchase of few Jovees products, I picked this hand & body lotion in the honey & grapes variant. After using tubs for quite some time, I got bored and this lotion with a pump dispenser grabbed my attention. After using this for 2 weeks, here is the detailed review.
Also Read: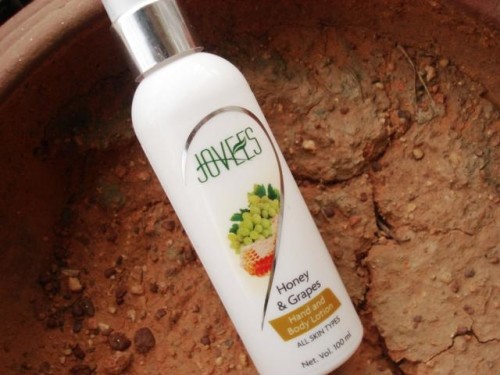 Price and quantity:
Rs.155 for 100 ml
Shelf Life:
3 years from the date of manufacture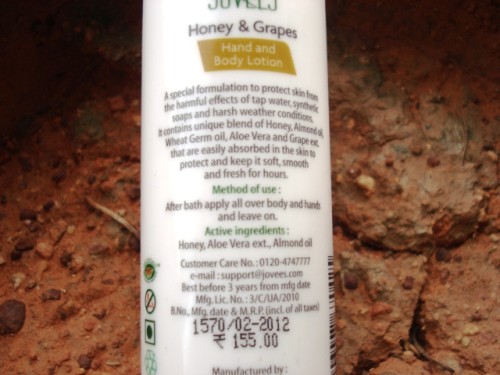 My Take on this Hand and Body Lotion:
This Jovees hand and body lotion comes in a white cylindrical bottle with a pump dispenser. The transparent little cap shuts well over the pump dispenser.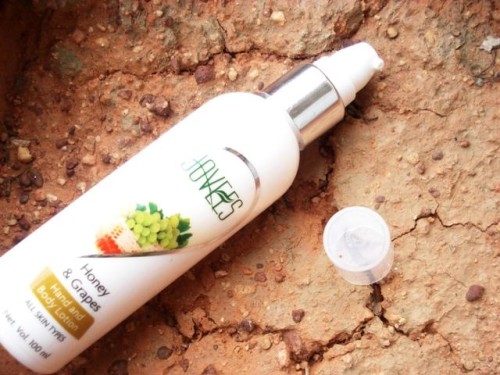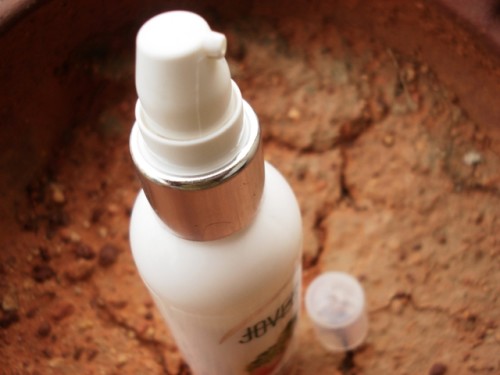 The lotion is white coloured with a perfect consistency that's makes the lotion to spread easily. I really like the fact that the lotion is light textured and gets easily absorbed by the skin. I do have few other favorite body lotions, so I wanted to use this as a hand cream only.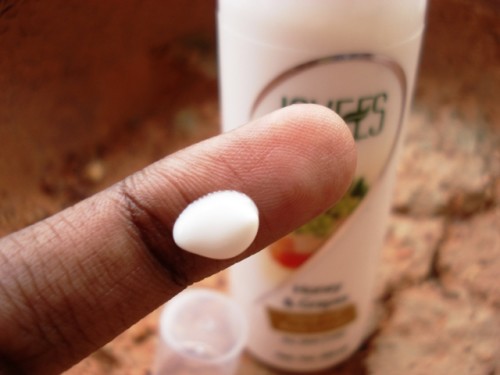 Every night I use this lotion on my palms and massage it through my fingers for a minute. The next day I do get up with soft and supple skin. If you are wondering why I am using this as a night hand lotion, I will tell you why. One thing that made me totally disappointed is the fragrance. It no where smells like honey or grapes. I don't know how to explain the smell but I am disliking the overpowering smell. It does fade slowly by time.
Coming to the claim, I am not sure if this will work on harmful effects of tap water, synthetic soaps and harsh weather conditions.Though it is mentioned 'All skin types', I doubt if this will suit very dry skinned girls especially on winters. The bottle can be reused and you can fill it up with homemade skin toner or hair growth serum.
Apart from the fragrance, this is a decent product and I would recommend it (after all fragrance is personal choice!)
Why I like this Hand and Body Lotion?:
Very light textured lotion
Skin absorbs in a jiff
Pump dispenser is sturdy
Non greasy texture
No wastage of product
Makes skin soft and smooth
Ideal for summers
Why I don't like this Hand and Body Lotion?:
Strong fragrance is a big downside for me
Only active ingredients mentioned
Not sure about the tap water and weather condition claims!!
MABH Rating: 3.7/5
Will I Repurchase?:
No. Though the results are satisfactory, I find it difficult to bear the fragrance!!
Do I Recommend?:
I do recommend this for girls who prefer their lotion to be light textured.
Girls, do you have any recommendation for a good hand cream? Let us know in the comments section :)