Hi friends!
Our experiences in life show us the best path to follow. Be it work, relationship, lifestyle or skincare! I have learnt a few lessons the hard way and care for my armpit area comes under that list :) I was irked at the thought of hair removal when I was in my teens. That was when these hair removal creams came like a saving grace.
But I had to pay a heavy price. My underarms became really dark. Not just a shade or two darker. I was 'in your face' dark :P Looking back now I realize it was a really bad idea.
So I went into research mode about six months ago and got a lot of handy information that I incorporated in my skin care routine. And Voila! Now that I have managed to lighten the tone of my underarms, I want to share with you what all tips that helped me.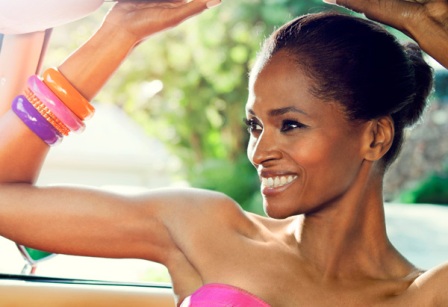 How to Light Dark Underarms at Home?
Like I said, hair removal creams and razors are the black sheep. Don't fall prey to the tempting ads that we see all the time with actresses caressing their silky soft skin. Hair removal creams do more harm than good. The same applies to shaving. Using it as a quick fix once in a while is okay. But the hair is removed only up to the surface level so the lower part is going to show up as a dark patch. Also the stubbles that grow back can make the hair look thicker. Resort to waxing as this not only removes hair by its roots, but also delays hair growth in the long run.
The underarm area is prone to lot of sweating resulting in bacterial growth and clogged pores. Exfoliate everyday using a loofah or washcloth.
Mix sugar with olive oil and make a simple body scrub that can be used to exfoliate your underarms as well. Use this about twice a week. You can also use baking soda mixed with a little bit of water to exfoliate. Exfoliation gets rid of the dark upper layer of skin and help in skin renewal
It is raining lemons in all skin care recipes and this one is no exception. Rub a slice of lemon on your armpit. Or you can use a gram flour, lemon and turmeric pack if you have the time during weekends. Wash it off after 15 minutes. Trust me this works amazingly in a few weeks. This recipe can lighten dark underarms up to a great extent!
Grate a potato, extract the juice and apply it in the area. You can also use a thin potato slice. Let it sit for 10-15 minutes and then wash off with plain water.
If all the exfoliation makes your armpit area dry, use a natural moisturizer which is coconut oil. It contains Vitamin E which again helps to lighten the discoloration.
Use alcohol free deodorants if you have body odor problems. This really helps if the burning deodorant spray was your issue.
Using the natural remedies only thrice a week is more than enough to lighten dark underarms but make sure you exfoliate gently every day. It took me about two months to see noticeable results. Sometimes heredity can also be the reason wherein the results won't be evident. So don't lose heart; it is okay to not be perfect all the time :) Just take care and pamper yourself.