Women forever are in love with flowers. They love the floral prints on their attire. They love to make themselves and their ambiance fragrant with sweet essence of flowers; i.e. the perfumes and the room fresheners they pick smell like sweet flowers. They love to knit or embroider floral designs on their home furnishings. Even they choose jewelries shaped like flowers such as blue bells or Rose studs for their ear etc.
Their innate and very feminine love affair with flowers often inspires them to tuck flowers into their hair as well. In fact decorating hair with flowers is not only a popular hairstyle but a tradition in many parts of the world. If you are really tired of hair straightening, perms and coloration and want to try something new, decorating hair with flowers could really be a great idea. It will not only be a new mode of hair styling but will also make your hair look colorful and vibrant.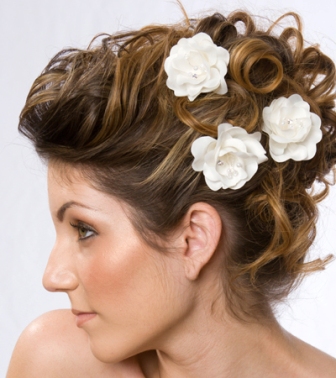 Also Read:
Here are some vital tips on how you should decorate your hair with flowers:
1. You can use both, real flowers or artificial flowers on your hair. You can style up your hair in to any style you want for instance top knots or plaits and then tuck flowers into it.
2. A combination of big and small flowers looks great for hair decoration. Talk to your hair stylist and florist regarding the color contrast and the shapes of flowers that are to be chosen for preparing the flower décor setup of your hair. Even leaves may be used amid flowers to enhance the beauty of the décor with a greenish hue.
3. Artificial flowers are the easiest to use. They won't wither and will retain their freshness for long. But if you are planning to decorate your hair with real flowers go for flowers like Gardenia, Daisy, Freesia, Lily, Peonies, Plumeria, Orchid, Stephanotis, Baby's Breath, Wax Flower. These though real last for a long time and also look too good. After all real flowers are the best if you can maintain their freshness because with real flowers you'll get another appealing extra; i.e. the sweet fragrance.
4. When you are using the flowers to decorate your hair, for the large flowers you need to cut the stems, to an inch size. Next use a typical U-shaped sturdy hairpin to pierce it and then go on to insert it into your hairstyle where it's the thickest. For more intricate part of the flower décor setup of your hair, you should use the small flowers and fix them with tiny beaded hairpins.
5. To retain the freshness of real flowers you can keep them in a cooler or refrigerator prior to using them on your hair.
6. Do not use a hair spray after you have finished decorating your hair with flowers. These sprays often come with polymers and alcohol which cause the delicate flowers to wither and lose their freshness.
So these are some tips which you should consider while decorating your hair with flowers. Follow these tips and your hairstyle will be ablaze with all the colors of spring grabbing maximum attention of all around! :)