Hello everyone :)
How will you find yourself if you don't find your clothes, teeth, face etc. :P everything needs proper care and it is very important to clean them and that's how today I want to share few steps for cleaning makeup brushes which I follow.
I do follow two different method of cleaning my makeup brushes:
On lazy days no mood to work – using only brush cleanser.
On desperate mood day – giving my makeup brushes deep cleansing.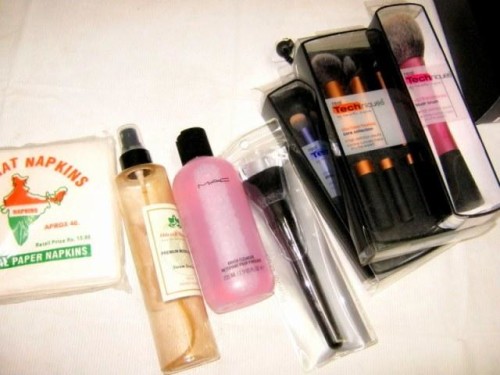 Method 1:
Let's start with Cleaning Makeup brushes with Brush cleanser:
I recently picked up MAC brush cleanser as I don't find any drugstore brand has brush cleanser. If anyone knows kindly let me know :) I sometimes feel very laid back and not in mood to spend too much time on cleansing my makeup brushes.
Things all you need are:
Brush cleanser
Any normal spray bottle (I used toner bottle here)
Lots of clean dry tissue paper to blot your dirty makeup brushes :P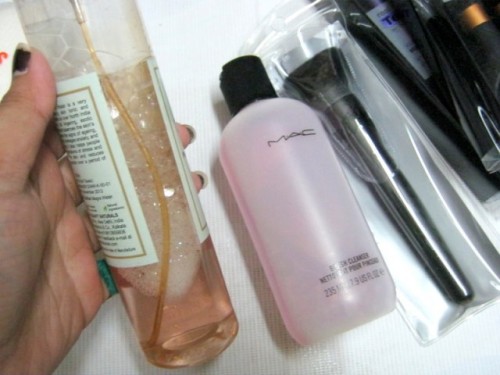 I pour few amount of makeup brush cleanser into spray bottle and added 1/4th of water to dilute the concentration. Now take the brush which ever you want to clean first. Spray brush cleanser 2-3 times on brush bristles and blot in onto tissue papers or you can directly spray over tissue papers and then dab the brush bristle on it. However I feel direct spray on tissue tends to wastage as most of the cleanser gets soaked by tissue.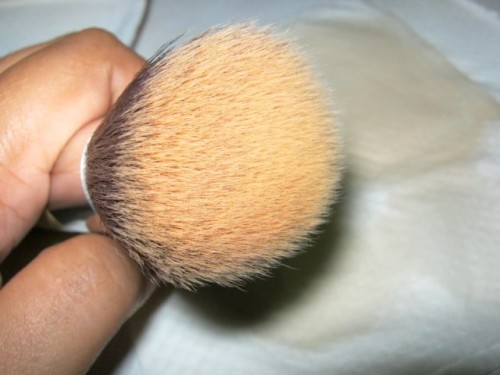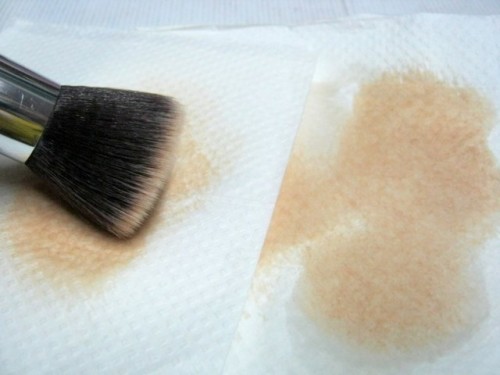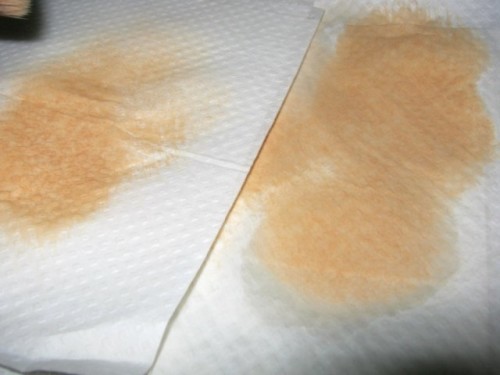 Keep repeating until you find your brush bristles are completely clean. Here I spray pump 3 times on bristles and blot on tissue. I repeated same process 2 times and taaaaa daaaaa my brush is clean :D You can see the difference how clean it is now. Total time consumed for this process is 15 minutes.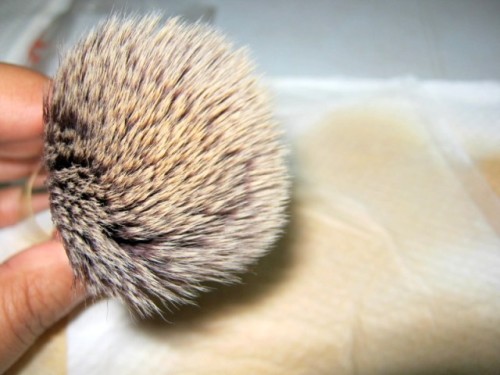 How to Give Your Makeup Brushes a Deep Clean?:
This is obviously very time consuming process, need patience and calm mind and dedication :P now why I said dedication you will know as I keep explaining more.
Things all you need are:
A bowl – you can use plastic bowl, glass bowl or normal utensil which we call as 'katori' –size bigger.
Mild shampoos – you can use baby shampoo but here I used my regular The Nature's Co evening prime rose shampoo (It's a very mild shampoo for daily use)
Lots of clean and dry tissues.
I have added 2 tablespoon of The Nature's Co shampoo to water and mixed it well. Then added my pre-cleansed brushes (Method 1) to it and kept it for 15-20 minutes.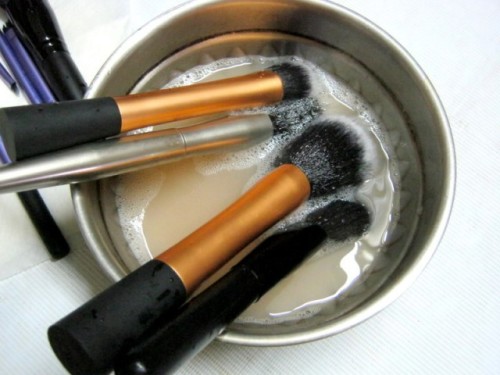 After 20 minutes I picked up my brushes one by one and rubbed the bristles gently on my palm to sanofy well to remove any extra traces of makeups. Remember to rinse your makeup brushes upside down as shown in the picture.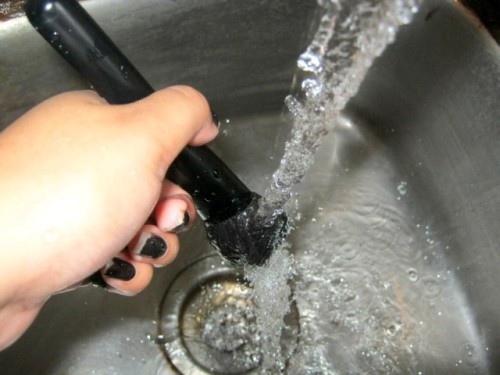 P.S: Give a good rinse about 3-4 times. Keep on rinsing the bristles until you get rid of all sanofication. If you rub the bristles after each wash you will still notice some lather forming. That's why you have to make sure you rinse it very well. Can you see how the bowl water changed to dirty yellow color :P that's the residue on brush.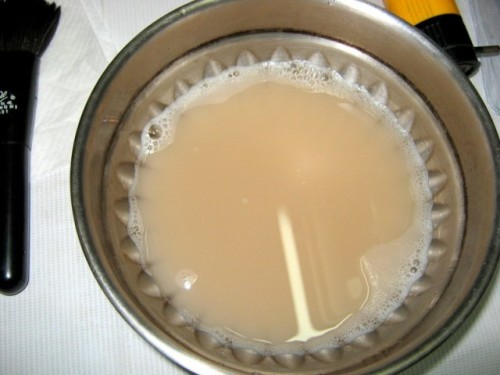 Next jerk of excess water and blot it on some clean dry tissue. Keep dabbing it unless it soaks up excess water from brush. Now wait till the brushes are dry and Voila, it is ready to use again! :D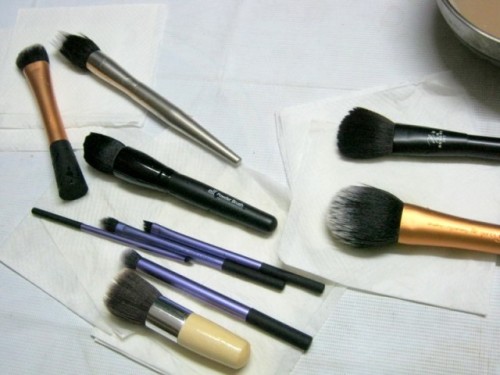 Total time consumed is 1 hour  :heh:
So girs.. How do you clean your makeup brushes? Any new method? Share below! :)