Nature has offered so much to  mankind. God has blessed us with so many things which are good for our health and skin. Honey is one such product. It has so many benefits that are known since the ancient period. The most beautiful and powerful women of the Egyptian period, Cleopatra, also used lots of honey for beautification. The proof of this has been found in ancient literature. I would like to share with you all some of its benefits.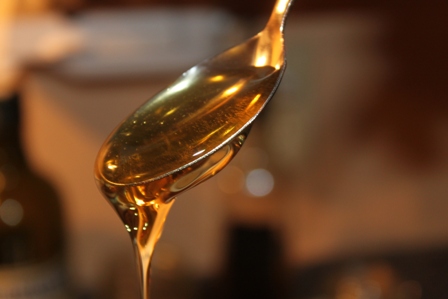 Honey for Skin:
Honey has antiseptic and antibacterial properties. It is rich in antioxidants and minerals which are good for health and our skin. Following are some packs that you can make at home with honey.
Honey can be used as an exfoliator. Mix honey, few drops of lemon and sugar. This is the best exfoliator that one can easily prepare at home.
To remove tan mix honey, few drops of lemon, few drops of lemon and almond oil and massage. Keep it for 15 minutes and wash it off with cold water. Regular use of this shows great results.
Mix honey and egg white and use it as an anti wrinkle mask.
Mix honey and almond oil to remove makeup (it is  a good makeup remover for dry skinned beauties.)
Mix honey , a pinch of turmeric , saffron and milk. It works as a fairness pack.
Honey for Hair:
Mix curd and honey and prepare a pack. Keep this on your hair for 45 minutes and wash it off. Add few drops of lemon if you are suffering from dandruff . this is a natural conditioner that makes your hair soft and silky.
If you are a working women and don't have time to keep on packs on your hair then you will love this tip. Just mix honey and rose water and apply this mixture on your hair for just 15 minutes and wash it off. You will have softest hair ever!! Add few drops of lemon if you have oily scalp.
Soak fenugreek seeds (methi dana) and urad dal over night and make a paste of it by mixing curd and honey. Apply this pack for 45 minutes on your and wash it off. It helps a lot if you suffer from hair fall.
Apart from various benefits that honey has for skin and hair, it also has medicinal properties. Honey is good for digestive system of our body and should be used as a substitute of sugar. Honey helps in boosting up the energy level. Honey mixed with ginger juice helps in cough and cold and is also beneficial in sore throat. Those who suffer from sleeplessness should drink hot milk with honey mixed in it daily before going to bed. Honey also helps in maintaining  the cholesterol of the body. There are many more benefits of honey but I cannot all. Hope this article was helpful for you. Stay healthy girls!! :)