We all yearn for a healthy glowing skin and indeed a skin that glows and is blemish-free makes you grab everyone's attention. A healthy looking and naturally glossy skin is a sign of overall health too but in this modern age of heavy traffic, smog, smoke and pollution plus the tendency of people to fall an easy prey to unhealthy food habits; i.e. food cooked in a lot of oil and grease or one that consists in high amounts of preservatives or condiments, maintaining a glowing skin naturally has become quite a tough row to hoe.
A regular skin care regimen is of utmost necessity if you really want to keep your skin on top shape for many years to come. It must be borne in mind that everyone is born with a soft & supple skin. But as we grow up, we start ravaging our delicate skin by using lots of chemical cosmetics on it and this causes the skin to lose its natural glow and texture.
Also Read:
Due to prolonged usage of chemical cosmetics the skin for some people may become so hypersensitive that they may start getting cumbersome skin problems like rashes, acne, sun burns etc. Application of face masks or packs can be a way of treating these problems but the market-based masks or packs again come with chemicals and are costly enough. Your skin after all is one of your most precious assets. So why deal so casually with it? You must use a skin pack that'll be skin-pampering enough and at the same time will not be harsh on it as well.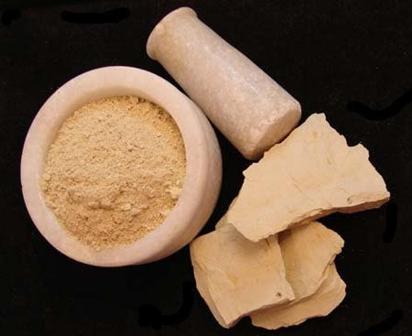 Fuller's Earth also called Multani Mitti can serve as a very beneficial natural and safe alternative to all the market-based chemical face packs. You can make countless natural home-based face masks or packs using Fuller's earth based on your skin care needs and skin type and no matter how many times a week you use these packs, you just don't have to worry about any kind of damaging side-effects.
For instance those who have acne problem, blemishes and very oily skin can benefit a lot if they use a natural home made face pack made out of Fuller's earth as the chief ingredient mingled with a paste of Margosa (Neem) leaves. Margosa leaves will heal the infected pimples because they have antiseptic properties in them. Also Fuller's Earth itself is reputed worldwide for its acne healing properties and the chief ingredient that makes it the world's best natural acne healing face pack is magnesium chloride.
If your skin has tanned and you are suffering from severe sun burns, mix sandalwood powder, turmeric powder and yogurt with your fuller's earth to make a healing and coolant face pack.
If rashes are troubling you a lot then ward them off by applying a relieving face pack of fullers pack and chilled rose water two times daily.
Apart from being a major face pack ingredient, this wondrous clay-like substance can even act as excellent skin toner or skin cleanser. I personally have experienced the wonderful skin cleansing power of Fuller's Earth. My profession compels me to spend long hours on the roads, amid congested traffic covering news stories etc and you can imagine very well, the rate at which the various skin foes act on my skin all through the day! But at the end of the day, when I dab my face with a cotton ball soaked in a thick mixture of Fuller'=s earth and water, all grime, sweat, oil and dirt is removed at once. My face feels fresh, really looks cleansed and rejuvenated after a long and lousy day.
So this miraculous Fuller's earth can indeed have plenty of benefits for your skin. Therefore hurry up and pick your pack of Fuller's earth from your nearest beauty store and discover its many potentialities. :)