Hi friends,
It is raining cats and dogs all over :) I just love how beautiful the city turns when there are rain clouds drizzling mildly always. This is the perfect time for you to get all cozy and relax with your favorite book and cup of tea. But hey! Don't forget about caring for your crowning glory. Your hair care regimen needs to be extra cautious since monsoons can take a toll on your tresses. Here are some really simple things you need to keep in mind while handling your hair this season.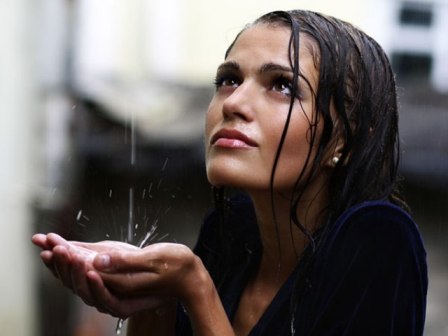 How to Care for Your Hair?:
It is fun to get drenched in the rain, right? :D Who wouldn't like it? But dry your hair completely if it gets wet, otherwise your scalp will be the breeding ground for fungal infections.
The main problem of monsoon season is frizzy hair. Your long curly locks can go haywire. Tame that frizz by using a good conditioner. Conditioner is only for your hair strands. Make sure it does not touch the scalp as this may cause dandruff problems.
The humid weather causes a lot of sweating and it attracts a lot of dust and dirt. So make sure to wash your hair twice a week and keep it clean.
Oil your hair before washing to control frizz naturally. Go for a deep conditioning session by letting the oil stay in your hair over night.
Never comb or tie up wet hair. It can cause a hell load of hair loss. Let it air dry and use a wide toothed comb to de-tangle.
It is better if you can avoid using hair sprays, mousse or going in for chemical treatment for your hair at parlors. If you get wet in rain during this time, the reaction is going to be adverse. The idea is to keep your hair and scalp as natural and clean as possible giving no room for any infections.
The recurrent dandruff problems in this season can be controlled by using a fenugreek hair mask. Soak a cup of fenugreek seeds in water overnight. Strain the water and make a paste out of the seeds. Apply it on your scalp and wash off after 1 hour to make it cleaner than ever.
The humidity again makes your hair oily, limp and lifeless. Add ¼ cup of vinegar to a mug of water and use it as a last rinse. Let it soak for a couple of minutes and then wash with plain water. This makes your hair shiny and voluminous.
Consume more protein, Vitamin E and C. This takes care of all your hair issues from the inside. Make sure you drink plenty of water and stay hydrated even if you don't feel like it; even if it means a couple more visits to the loo :P Your body needs water girl!
Finally sport some loose and chic hairstyles like a side braid, a side swept pony tail, half-up half-down styles and have a wonderful time this monsoon. :)
Image source: 1