Often we hangout with our friends or go on a casual date or go for a casual chat over a cup of coffee to some cafeteria with our colleagues. Whether you are gathering in ice cream parlors or movie theatres or restaurants or cafeterias or food courts or parks, it's a casual fun time and you are in a mood to enjoy and indulge in light funny talks and topics. But amid all this you can't afford to forget your looks.
You must look beautiful so that even while you are on a casual hangout your confidence level can get an extra boost up and you can really feel special among all your friends. Knowing the right makeup techniques for a casual hangout is important or else you may over do it on yourself and look utterly made-up!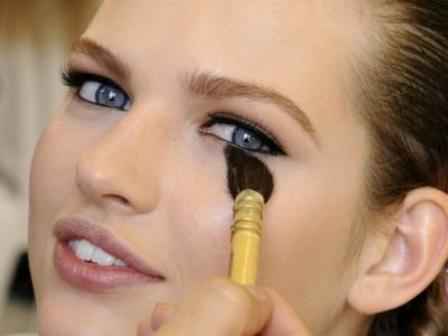 So here are some casual hangout makeup tips for you:
Do not wear a loud jazzy makeup on a casual hangout. All you need to do is highlight your best features and then allow your natural beauty show its magic!
Wearing too much of makeup doesn't mean that it's going to make you look great. So keep it totally simple but follow the right tips. Your eyes can speak volumes and the eyes of a woman are perhaps the best of all her features. So make it more beautiful by applying the proper makeup.
Cleanse your face thoroughly, rinse it and pat it absolutely dry with a high absorbent towel so that your face is free from excess water.
Dust your face with powder foundation, preferably very light & skin colored powder. With a foundation brush, blend the powder evenly with your skin tone. Apply this powder on your neck too. This will act as a concealing layer on any spot or blemishes on the skin, hiding it from view. However do not use more than 1-2 layers of this powder and if you are using this powder, there's no need to use foundation.
The colors of the lipsticks you choose should be light and even the lip liners should be of the same color as that of the lipstick. Don't make your lip liners stand out from your lips much. Light pink, light lavender, light brown, light orange, nude could be great colors for lipsticks. These lipsticks could either be matt finish or glossy.
You must exercise extra caution while applying eye shadow. Never apply anything too contrasting to your skin tone. Select neutral shades like light brown, light pink, peach.
For blushers on cheeks fair skinned women can use a shade of light pink while dark skinned women can use a shade of light brown. It should be thoroughly evened out with cotton pads or brushes.
For your eyes you need to apply mascara. But remember not to overdo your lashes. That may give you an odd plastic appearance. Just one single coat of that magical mascara will impart an extra sleek and neat finish to those enchanting eyes of yours.
So follow the above casual hangout makeup tips and stand out as the beauty queen of a casual hangout! :)