Rose is indeed a lovely flower that looks great as well as smells great. If your special person gifts you a red rose your day is made and your spirits are lifted! Do you know that this flower can help you to have a flawless glowing skin as well?
Yes, it's very true. The petals of the flower can be used to make the fragrant rosewater that can have innumerable wondrous benefits for your skin. In the 10th century the use of rosewater was popularized by the Persians who were very fond of fragrances and still today most of the best quality rose waters and essential oils are exported worldwide from Persia only.
Rosewater can prove beneficial to your skin in a number of ways. Read on to know how it can help you to have a healthy flawless skin: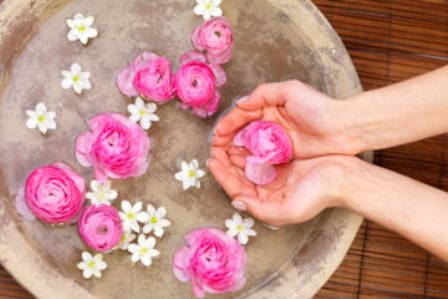 Skin Benefits of Rose Water:
Rosewater can serve as an excellent moisturizer for dry skin. The natural oils in the rosewater moisturize your skin adequately and also act as a moisture lock plus the natural sugars in rosewater soothes the stretchy and tight feeling of a dry skin giving you an unmatched softness.
Rosewater has anti-inflammatory properties and is rich in antioxidants as well. Therefore if you have severe acne problem or are suffering from skin rashes or blistering of any kind, you can use rosewater on your skin to get miraculous results. It will not only heal the skin cells damaged due to acne but the antioxidants in it will also help to re-grow new skin tissues. With the birth of fresh new skin your acne scars will be much less visible.
Those who have a sensitive skin can use rosewater on their skin because it's natural, mild, antiseptic and anti-inflammatory. Therefore it's safe in all possible ways.
Excessive exposure to sun can cause premature wrinkling of skin due to the breaking down of the elastin fibers of the skin. Using rosewater on skin can stop this process and restore the skin's elasticity and firmness.
Rosewater can act as a wonderful natural skin toner. It'll tighten your skin pores and keep those menacing wrinkles at bay.
If you have plans for a party but the puffiness of your eyes is making you reluctant because you think that you won't look great with the makeup, then worry not because there's an easy natural solution and its rosewater again. Dabbing your eyes with chilled rosewater can help you get rid of eye puffiness instantly.
Rosewater can be used as an excellent natural skin cleanser as well. It removes all dirt, dust, grime, oil and makeup from your skin thoroughly and yet mildly without leaving your skin dry.
So these are some major benefits of rosewater on your skin. Include the miraculous rosewater in your regular skin care routine and your skin will be as radiant and fresh as a freshly bloomed rose!  :rose: