If you want to look beautiful then why keep you beauty treatments confined to your hair and face alone? Don't you think that your body is like a temple and every part of it should be cared for? A woman who is a true connoisseur of beauty and wishes to look beautiful in every respect will always maintain herself from head to foot.
But sadly enough very few of us do that. In our day to day busy life we so very fettered in household chores or in professional deadlines that we can just barely manage the facial skincare or hair care somehow but have no time for our feet. Our feet are the most neglected part of our body and due to lack of proper care in the dry wintry months, often painful cracks or fissures may develop in the heel area of our feet.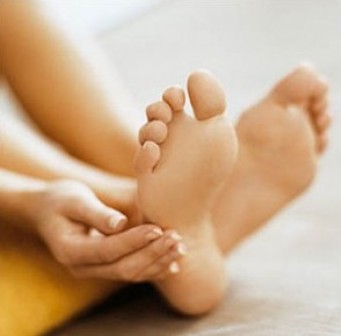 Also Read:
Cracked heels are one common problem which most people suffer from especially in the winters. The cracks on your heels look very unsightly and may embarrass you a lot in public. It spoils the beauty of your feet. Here I'll suggest top 5 home-made scrubs which you can use to remove the dry scales and skins on the cracked heels and get a soothing relief from the problem.
In a small bowl you need to mix thoroughly 2 tbsp of brown sugar, 1 tbsp of honey, 1 tsp of lemon juice and 1 tbsp of olive oil. Continue stirring until the mixture turns thick, smooth and sticky. Keep the bowl aside for some time. Soak feet for about 15 minutes in a tub of lukewarm water. This will cleanse your feet of dust particles. Now smear the mixture on your feet and scrub gently moving hands over your feet in a circular pattern. This will exfoliate your feet aptly, leaving your heels smooth and moisturized. This is because honey and olive oil are great moisturizing agents. Rinse off and pat your feet dry.
In a tub of add 5 cups warm water plus 1 cup milk. Soak feet for at least 10 minutes. Next mingle ½ cup coconut oil or any baby oil with salt or sugar crystals in some bowl. Stir it into a thick paste. Apply it onto your feet. Scrub feet with it and next the heel area especially with a pumice stone. Rinse off and pat dry. Before retiring to bed, rub feet with the stridex pad, an effective exfoliating agent because of its content of salicylic acid (2%) Next apply some very thick moisturizer like salicylic cream or petroleum jelly and wear socks to keep the moisture locked overnight.
Application of banana pulp or avocado pulp can really heal the fissures on the heels because these are great moisturizers. You just need to smash any of these fruits and apply the pulp on your feet. Keep for at least 15 minutes and rinse off using lukewarm water. This will give you a total and beautiful heel makeover.
Soak feet for at least 10 minutes in a tub of lukewarm water. Pat it completely dry. Next in a small container mix thoroughly 1 tbsp petroleum jelly with few drops of lime juice. Massage your feet generously with this mixture before retiring to bed at night and wear cotton socks. Do this daily to get smooth crack-free heels.
In a bowl mix 4 tbsp rice flour and 1 tbsp of honey plus 1 tbsp of apple cider vinegar. Thoroughly stir so that all ingredients mix well to make a coarse but thick paste. Scrub feet with this paste. After you finish use lukewarm water for rinsing feet and then pat dry. Your feet will definite feel very soft and utterly moisturized too.
So you can use the above homemade foot scrubs this winter to keep the cracked heels problem at bay. :)