Hello girls!
Today, we are going to check 3 Avon Kissable Lipstick Swatches. This new range has got 10 shades in India and claims to give fuller and softer lips. I got the lipstick in shades Lovey Dovey, Caressing Coral and and Coy Copper. Read on to know more.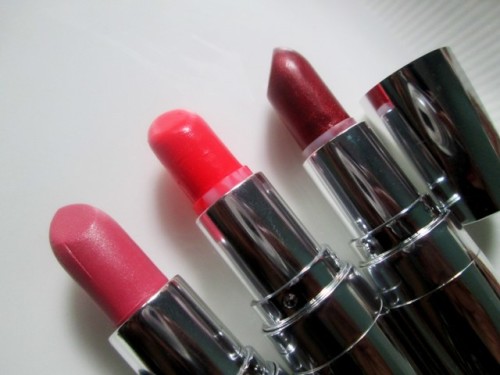 Price and Quantity:
Rs.429 for 3.8g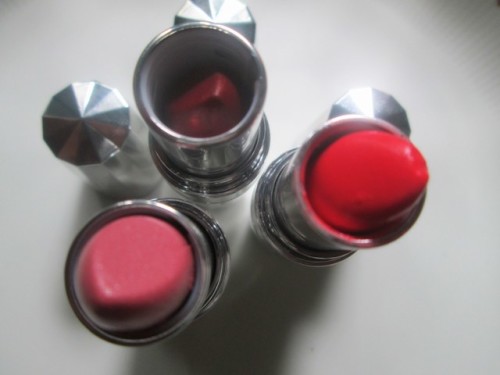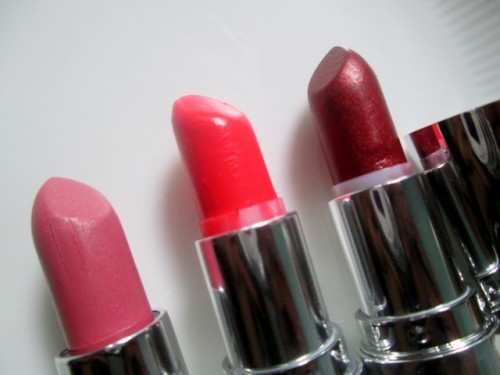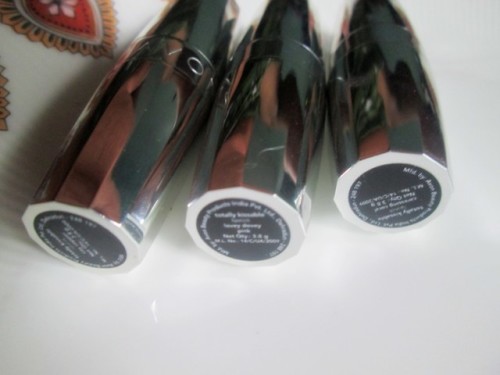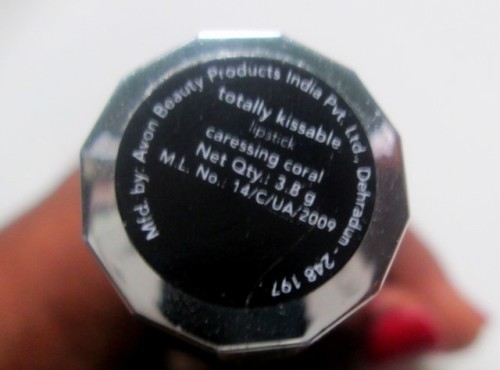 Avon Totally Kissable Lipsticks – Swatches:
L-R: Lovey Dovey, Caressing Coral and Coy Copper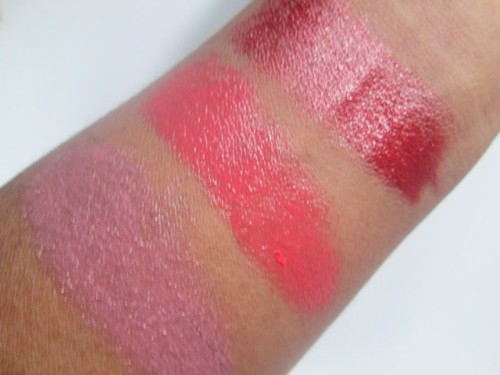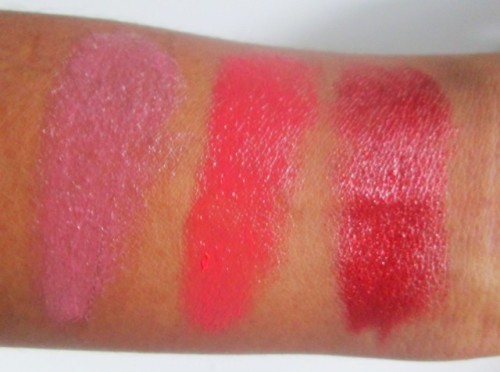 Lovey Dovey: It is a pale pink shade with minute silver shimmer. It has a sheer texture and the pigmentation is below average. This shade washes out my skin tone badly and so this is my least favorite among the three. If you have a lighter skin tone and eyeing out for a pale, nude pink to pair up with your heavy eye makeup – may be smokey eyes, then get this. You won't be disappointed!
Caressing Coral: Corals!!! I love em. This is my most favorite shade among the all three I got. It is a bright orange-y coral on tube but looks very natural on lips.  It is an universal flattering shade and I find it perfect on my dusky skin tone. The pigmentation is average and it is build-able. It hides imperfections well with 4-5 swipes. It fades after 2-3 hours of wear and leaves a light tint behind. Have a meal and it will disappear without any tint! Though I am not much impressed with its staying power, the texture is smooth, buttery and extremely moisturizing. It is the only shade without shimmer whereas the other two are shimmery.
Coy Copper: Coy copper is a beautiful red-brown shade with minute golden shimmer. It has a touch of copper to its finish and this shade will look beautiful on any skin tone. It is the well pigmented shade among the 3 and it is my second favorite, next to caressing coral. Coy copper gives an opaque finish with 3-4 swipes and stays for a decent time. Though I love the shade, it is not 'my' kind of shade as I am not currently in shimmer loving phase :)
So girls, have you tried the new Avon Totally Kissable Lipsticks? Which one do you like among these 3 I got? Share your comments below!