Women always crave for a slim figure so that they can glam up in any sort of outfits whether ethnic or western. But all are not blessed with a fabulous hour-glass sort of figure they yearn for. Due to hereditary causes, wrong food habits, sedentary lifestyles, hormonal imbalances often women turn flabby and as a result they start envying the skinny zero figured flat bellied models on TV and fashion magazines a lot!
If you are one of them who has recently put on a lot of weight, stop envying models because even with a fat body you can look really stunning and beautiful provided you adopt some smart dressing tips.
Here are some smart dressing tips to hide the fatty side of your body: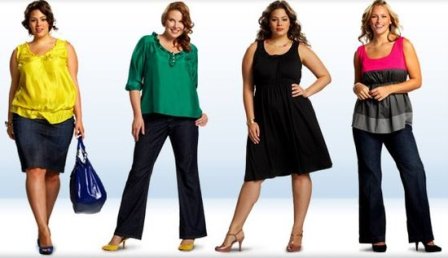 Opt for tops, T-shirts, kurtis, tunics, dresses, ethnic wears, that have vertical prints, stripes or lines.
Opt for tops, T-shirts, kurtis, tunics coming in sober light shades and pair it with bottoms that have deep dark shades.
It is best to opt for tops, tunics or kurtis that come with a broad neckline. Take a matching scarf with your outfit. It not only makes you look stylish but also covers up your heavy broad bust line.
For flabby women, black is the best color. Wear black and trick people into thinking that you are slim! Pastel shades also work great.
For dresses or skirts, go for fabrics like synthetics, crepe and chiffon. These fabrics are slippery in texture and so they'll fall round your body quite evenly unlike other fabric types that remain puffy making you look fatter.
Flabby women generally have heavy hips. So they must select Kurtis that'll cover up their hip line properly. Thus it's best to opt for kurtis that are knee length or the ones that extend below the knee.
Try to opt for full-sleeves when it comes to wearing kurtis. If you are wearing ethnic wears like saris, then for blouses, go in for short sleeves and the fabric should be cotton. Sleeveless blouses, cap sleeved blouses and even 3/4th sleeved blouses can accentuate your heavy arms.
Do not choose bottoms like pedal pushers, tapering jeans and stretch jeans. If you wear those your heavy top will be accentuated in contrast to your tapering stick-like legs.
Never wear starched clothes or cotton fabrics because those won't blend perfectly with the flabby body and big shape you have.
Horizontal prints, block prints, solid white colors are not for you. Mind it! Those will make you look fatter.
So these are some smart dressing tips with which you can look forever gorgeous in spite of being fat. :)