Hello everyone!
Today we are going to check 10 budget shampoos available in India that works great on oily hair and scalp. If you are that person who struggles finding a perfect shampoo for your oily hair type, this compilation is for you!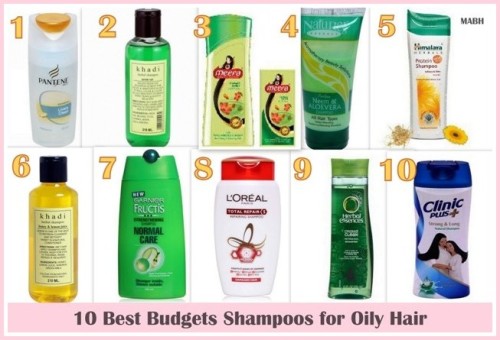 1. Pantene Lively Clean Shampoo
Price: Rs.50 for 90 ml
Pantene Lively Clean Shampoo claims to revitalize oily limp hair to lively healthy hair. It is colorless, lathers well and removes dirt and oiliness efficiently. It leaves scalp clean and clear and hence, a boon for oily scalped people.
2. Khadi Herbal Neem Sat Shampoo
Price: Rs.95 for 210 ml
This green colored shampoo cleanses oily hair perfectly and leaves it squeaky clean. It even helps clearing excess oiliness in heavily oiled hair. On the other hand, it doesn't dry out hair unlike other oil clearing shampoos. With regular usage, it keeps hair fall under check.
3. Meera Herbals Damage Prevent Shampoo
Price: Rs.60 for 100 ml
This affordable shampoo from Meera herbals comes in a sturdy plastic bottle. It cleanses oily scalp efficiently leaving hair soft and clean. If you can stand the strong herbal smell, you can try out this shampoo for your oily hair.
4. Nature's Essence Neem and Aloe Vera Shampoo
Price: Rs.125 for 150 ml
The combination of neem and aloe vera works good in this shampoo. It comes in a tube with a flip open cap. The shampoo is runny in consistency but still lathers well and clears dirt from the scalp. If you have oily scalp, you can surely give this shampoo a try.
5. Himalaya Herbals Protein Shampoo Soft and Shine
Price: Rs.60 for 100 ml
Soft and Shine!? But no! This shampoo isn't meant for dry hair types. Though it is a herbal shampoo that claims to soften hair, it actually helps oily hair types more. It removes oil and dirt from your hair, leaving it clean and refreshed. Your scalp remains clean and oil free even after 2-3 days of hair wash with this shampoo!
6. Khadi Herbal Shampoo Honey and Lemon Juice
Price: Rs. 95 for 210 ml
With the goodness of honey, lemon juice, shikakai and green amla this yummy looking shampoo refreshes hair and scalp with its oil clearing properties. It doesn't make hair soft of manageable; it doesn't claim after all. But it is really good with the scalp and hair cleansing part.
7.  Garnier Fructis Normal Care Strengthening Shampoo
Price: Rs.210 for 340 ml
This awesome fruity smelling shampoo cleans oily scalp and leaves hair soft and manageable. It doesn't dry out hair excessively but just clears oil and maintains the moisture balance. This shampoo can also be used on normal hair types.
8. L'Oreal Paris Total Repair 5 Shampoo
Price: Rs.69 for 90 ml
This total repair shampoo claims to work on dry and rough hair but it actually works great on normal and oily hair types.  When this shampoo does nothing for extra dry hair, it amazingly clears oily scalp and leaves hair manageable. Like the Garnier Normal Care shampoo, this one is also meant for normal-oily hair types.
9. Herbals Essences Drama Clean Refreshing Shampoo
Price: Rs. 190 for 300 ml
This Herbals Essences shampoo isn't much famous here in India unlike the L'oreal Total Repair 5 Shampoo we checked before. But it works great on normal to oily hair types with its green tea extracts. It leaves hair soft after removing greasiness and dirt from your scalp. As a bonus, it has a good fruity fragrance too!
10. Clinic Plus Strong and Long Shampoo
Price: Rs.165 for 400 ml
If you are living in India, you will surely know this shampoo! Clinic plus is a trusted brand here. Clinic Plus Long and Strong Shampoo is meant for extra oily hair types. If you have that oily scalp and hair 24/7, this shampoo is a life saver for you. It removes all the oiliness from your hair and scalp, leaving them clean and clear. You shouldn't touch this shampoo if you have dry hair.
Do you have an oily hair type? Which are your favorite shampoos that work great on oily hair? Have you tried any of the shampoos above? Please leave your comments and suggestions for oily hair shampoos below! Have a great day!