Hey girls!!
I am reviewing my Philips hair dryer – HP 8200 today. This is my first hair dryer and while purchasing this, I didn't have much idea about the important features to look in a hair dryer. I was quite impressed with the SA explanation and immediately purchased it. I have been using this for more than one year and I would like to share my experience about this wonderful product.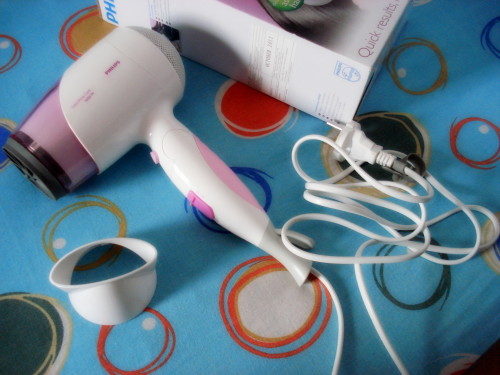 Price :
Rs. 1395
Product Description :
Mid End Dryer (1600 W, 220-240 V)
EDH+ Technology for faster drying and to prevent damage caused by hot spots
1600 W for professional results
Coolshot to seal in shine and fix your style
Six flexible speed and temperature settings to suit your hairstyle
Thermo protective temperature for maintaining your hair's natural moisture level, and for shiny, healthy looking hair
Also Claims that 'Specially designed for Asian Hair'.
My Take on  Philips Hair Dryer HP 8200 :
I don't regularly blow dry my hair. When I am in a hurry and my hair refuses to air dry in Bangalore climate, I use this. Now I am slowly learning to blow dry with a ceramic hair brush. The dryer comes in a white-pink colour combo which looks very pretty. User manual provided along the product has very clear instructions about every small detail related to the dryer.
Since this is the only dryer I posses, I can't compare with other brands. But I must say this is super easy to use. It is really not that big or heavy, just perfect for me to hold and blow dry.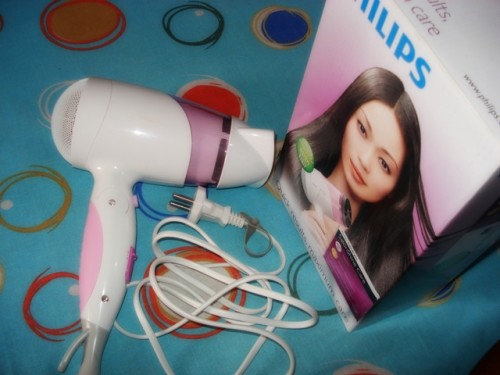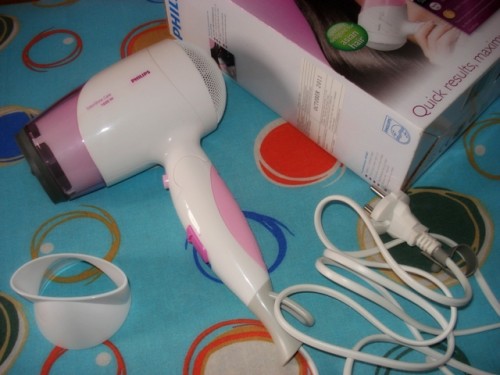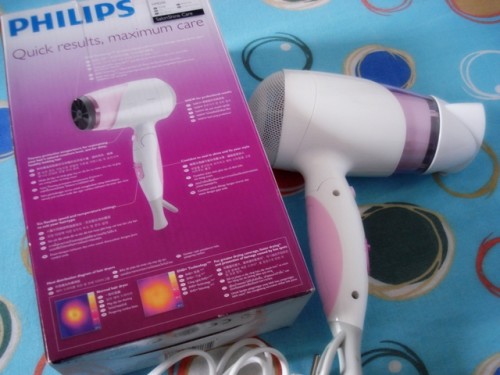 The dryer comes with three temperature setting and 3 speed control setting. You can adjust them according to the dampness and urgency to dry the hair. The dryer is fold-able and easily fits into my travel bag. A hanging loop is provided at the base of the dryer and the cord that connects the plug is long.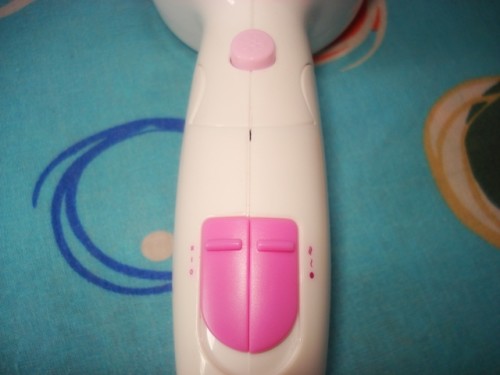 One more important feature of this hair dryer is the Cool Shot option. Cool air does not damage hair to the extent that hot air does. When the cool shot option is used, it seals the cuticles and sets the style for longer time. The concentrator is detachable and used for precise drying and styling.
This is definitely one the best purchase I have ever invested.
Why I like this Hair Dryer?:
Six settings – 3 for temperature & 3 for airflow
EDH+ Technology – prevents damage caused by hot spots.
Coolshot option to set the style and seal the shine
Pretty colour combo
1600 W(220-240 V)- perfect for regular use
Narrow concentrator to precise styling
Foldable – Apt for travelling
Comes with 2 year warranty
Why I don't like this Hair Dryer?:
MABH Rating: 5/5
This is the first product I have rated whole 5 :)
Do I suggest this Hair Dryer?:
This is an awesome product. Girls looking for a good and budget dryer do get this. Highly recommended!!