Hello girls,

This is Ayesha from Mumbai. I read this space everyday and I am really addicted to it. You all do a fantastic job. I am new too all these stuff; makeup, skincare and cosmetics. I recently came across some face scrub reviews on internet. I am afraid they might contain harmful chemicals. When I asked one of my close friends about this, she advised me to use sooji/rava as facial scrub as it is harmless.

Shall I use sooji on my face? If yes, then how to use it? Please guide me! Thanks  :-)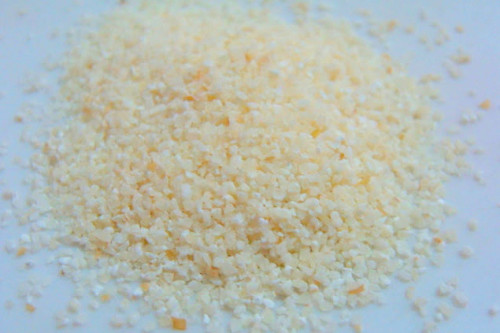 Reply to the Query:
Hi Ayesha! Welcome to MABH.  :-)
I have never tried sooji on my skin but my aunt swears by it. Rava is an unusual ingredient in natural skin care but she says it works really good. Our writer Chand uses sooji as her facial scrub too. She described the process in her post Homemade Bleach to Remove Sun Tan.
Now, here's my aunt's sooji facial scrub recipe.
Ingredients Needed:
Sooji – 2 teaspoons
Curd – Required
Payatha maavu/Green gram powder – 1 teaspoon
Preparation and Usage:
Soak sooji in curd for 3-5 minutes. Add payatha maavu to this mixture and blend well. After washing your face, spread this scrub and leave on for 5 minutes. Now wet your fingers and start scrubbing with gentle circular motions.
As we soaked the sooji, it will not be harsh on your skin. But still, make sure to give gentle strokes. After 5 minutes of scrubbing, splash cold water over your face and rinse the scrub away.
This homemade sooji scrub acts as a great cleanser; it opens up skin pores, removes oiliness, impurities and leaves skin fresh and clear. You can also use this on your body skin. Don't forget to add green gram powder to this scrub, as it is the base.
For a healthy skin, scrub at least once in a week :) Hope you find this sooji scrub recipe helpful. So girls.. If you have any suggestions/recipes for Ayesha, kindly drop it below!